IAIA A-i-R: Adams, Fragua, and Rutherford—Dinner and Studio Tour
Mon, April 18, 2022, 5:00 pm

–

6:30 pm

|

Free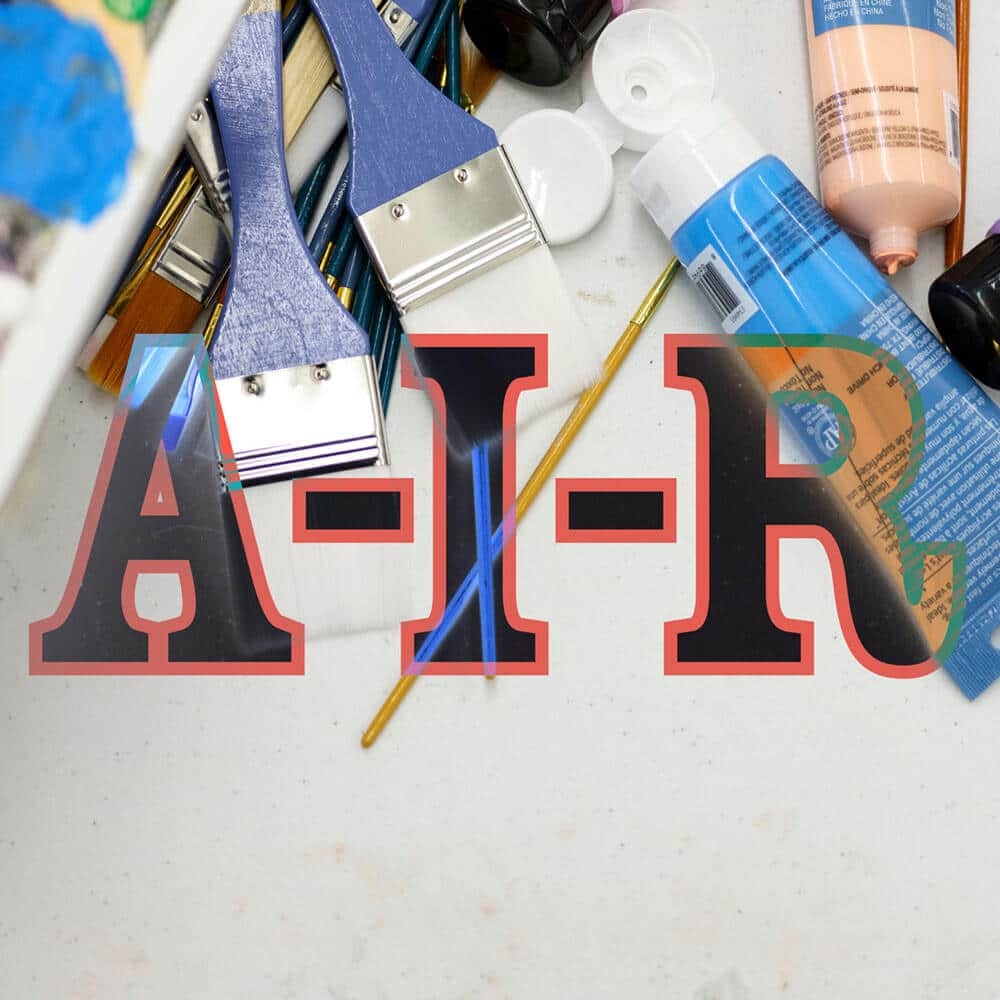 Join IAIA Artist-in-Residence (A-i-R) artists Rochelle Adams (Gwich'in), Cliff Fragua (Jemez Pueblo), and Lisa Rutherford (Cherokee Nation) for free dinner in the Academic Building on the IAIA campus from 5:00–5:30 pm, followed by a tour of the artist's studio space from 5:30–6:30 pm. Free and open to the public.
For more information, contact Lara Evans at levans@iaia.edu or Erin Cooper at erin.cooper@iaia.edu.
Rochelle Adams
April 6–April 29
Rochelle Adams (Gwich'in) is from the villages of Beaver and Fort Yukon along the Yukon River in Alaska. She lives a traditional lifestyle with her family following the seasonal cycles of hunting, fishing, and gathering. She continues this tradition of stewardship and reciprocity with her three children. These are the values and connections that she carries in all parts of her life.
Adams attended the Institute of American Indian Arts, working in 2D studies. She received her BA from the University of Alaska Fairbanks, focusing on Native Art and Native Language. She has worked towards her MA in Applied Linguistics with an emphasis on technology. Her most valued education comes from the traditional teachings of her family, community, and homeland. She is a learner and educator of her Native language of Gwich'in. Cultural art roots her and brings her forward in her language journey. This cultural knowledge of being connected to the land, animals, fish and water through an Indigenous lens has given her deep grounding. She works closely with the elders and youth of her own region and statewide to create language learning materials and curriculum based on the collective Indigenous knowledge passed down through generations. Adams explores her unique cultural heritage of Gwich'in and Japanese in her artwork. She paints a picture of her living history with the tools, materials and designs of skin-sewing and beadwork. She uses traditional tanned moose skin, king salmon skin, dentalium, quills, Japanese seed beads, silk, rabbit fur, and sinew to create wearable art pieces with Japanese designs. She hopes that her art will educate and bring awareness to the unique history of her village and honor her family. During her residency, Adams plans to create traditional Gwich'in regalia with designs from her multiethnic heritage.
Cliff Fragua
February 21–April 21
Cliff Fragua (Jemez Pueblo) is a sculptor and stone carver. He is the only Native American sculptor to have a work installed in National Statuary Hall of the United States Capitol. It is the second of sculptures representing the State of New Mexico and the 100th and last of these works to be added to the collection. The sculpture is of Po'Pay, a great Pueblo leader during the late 1600s who united the Pueblo people and defeated and expelled the Spaniards in what is now New Mexico. Born and raised on Jemez Pueblo, New Mexico, Fragua is an enrolled member of the tribe. He began studying painting and sculpture at the Institute of American Indian Arts in Santa Fe. He found sculpture was his calling. Following this, he attended the Pietrasanta Stone Workshop in Pietrasanta, Italy, where he did further studies on stone carving. An inspiration began while he was there and observed the technique of stone lamination, which is now a hallmark specialty of Cliff's work. Cliff has monumental works installed in public spaces and collections throughout the United States. His works has received awards and recognition throughout his career. Currently, Cliff works and carves at the Singing Stone Studio, his studio in Jemez Pueblo.
Lisa Rutherford
April 1–April 29
Lisa Rutherford (Cherokee Nation) balances her creative time between clay arts and textile arts, including pottery, sculpture, 18th century clothing, feather capes, Southeast applique beadwork, and twined textiles. A graduate of Northeastern State University, she worked as an executive assistant for tribal administration for several years. She makes her home on a cattle ranch near Tahlequah. She has been making ancestral-style pottery since 2005 and began making historic clothing to wear while she demonstrated her art, leading to her career as a living history interpreter as well as an artist. She creates historic clothing for museum exhibits, specializing in feather capes. In 2014, Rutherford participated in the Art Leadership Program at the Smithsonian's National Museum of the American Indian (NMAI), studying twined textiles, historic clothing and beadwork, and feather capes. She has demonstrated cultural and historic arts at numerous venues including Colonial Williamsburg, VA and NMAI. She is a member of the Southeast Indian Artists Association (SEIAA). In 2018, she was named a Cherokee National Treasure by the Cherokee Nation for her work in preserving and promoting Cherokee pottery and culture. Her work is in many museum collections, including NMAI, the Eiteljorg Museum of American Indian and Western Art, the Cherokee National History Museum, and the Fred Jones, Jr. Museum at OU.
If you are an individual with a disability in need of any type of auxiliary aid or service to attend this event, please contact IAIA's ADA Office at least seven calendar days prior to the event or as soon as possible at adaoffice@iaia.edu or (505) 424-5707.