IAIA A-i-R: Jones and Paz-Pedro—Open Studios
Thu, February 6, 2020, 3:00 pm

–

5:00 pm

|

Free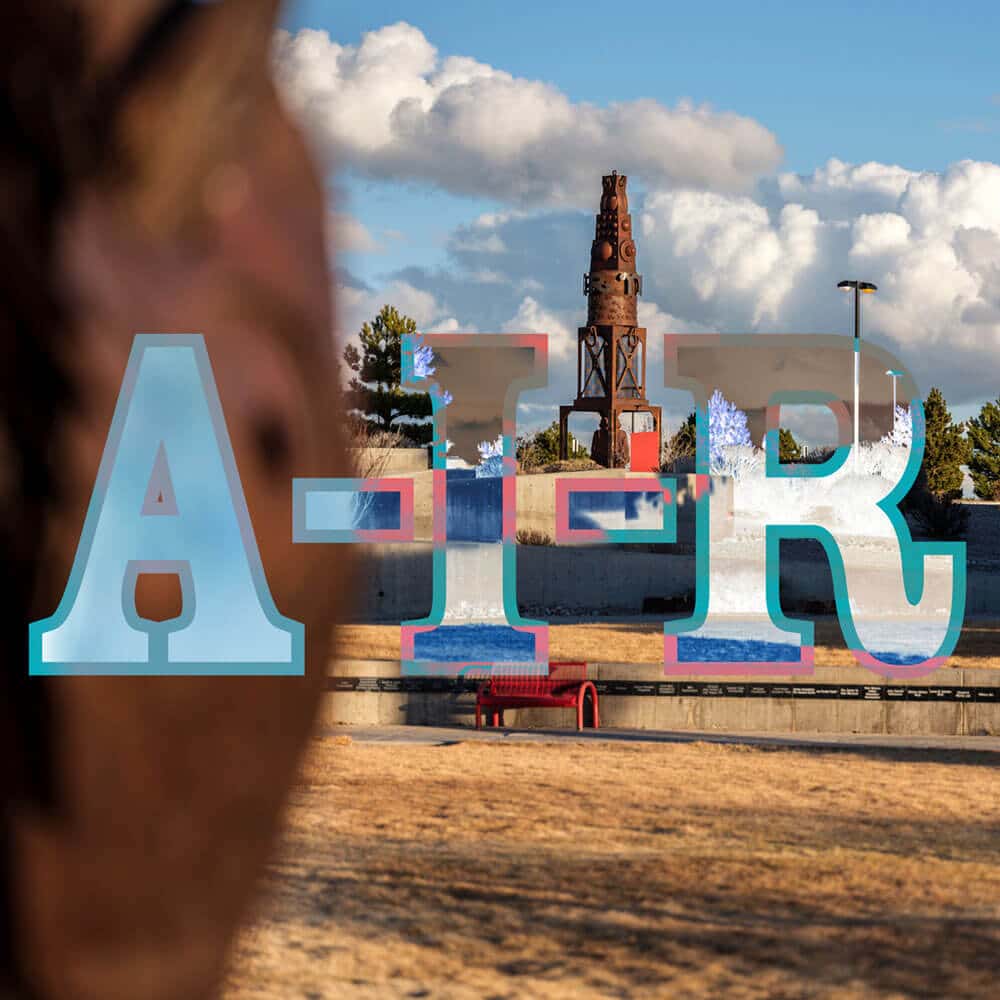 Visit with IAIA Artist-in-Residence (A-i-R) artists Topaz Jones (Shoshone, Kalapuya, Molalla, Lummi) and Margarita Paz-Pedro (Laguna Pueblo, Mexican American) on the IAIA campus from 3:00 pm–5:00 pm for tours of the artists' studio spaces. Free and open to the public.
Topaz Jones
January 15–March 8, 2020
Topaz Jones (Shoshone, Kalapuya, Molalla, Lummi) is a multidisciplinary artist from the Pacific Northwest and Great Basin region. She is an enrolled Western Shoshone member from the Shoshone-Paiute Tribes of Duck Valley Indian Reservation. Jones was born in Portland, Oregon and has descendancy ties to the Confederated Tribes of Grand Ronde, and the Lummi Nation from Washington. Jones moved to Santa Fe, New Mexico to attend the Institute of American Indian Arts, where she earned a BFA in Studio Arts in 2011 and a certificate in Museum Studies in 2016. During her time at IAIA she was awarded an apprenticeship, that took her to Samsun, Turkey to create artwork for an exhibition. She also completed the Journey Home Internship where she worked for the Chachalu Tribal Museum and Cultural Center in Grand Ronde, Oregon.
Jones started creating art early on in life—her formal training began at age 10 when she took oil painting classes and studied landscapes. Being from a multicultural background and having lived in cities and on rural reservations, her perspective on people and places comes from her experience as a Native American. She depicts her experiences, culture, and elements of identity in her paintings, installations and other art forms she works in. Jones created a series of paintings titled, Dreamscapes. In this series, she fuses her conscious and subconscious with the landscapes of her homelands. Jones has recently illustrated three Native American children's stories and wrote one Shoshone story for publication. In the years to come, Jones would like to publish more children's books and begin writing art-themed publications. She plans to begin research on Contemporary Great Basin beadwork and basket making. Jones currently lives and works in Santa Fe, New Mexico with her family.
Margarita Paz-Pedro
January 17–February 17, 2020
Born in Albuquerque, raised in Las Cruces and with family in Laguna Pueblo, Margarita Paz-Pedro (Laguna Pueblo, Mexican American) has ties across New Mexico. She has been involved with clay since 1999. She received her BFA with an emphasis in Ceramics in 2003 from the University of Colorado-Boulder and an MA in Art Education in 2008 from the University of New Mexico. In 2006, she began her study in the Arita Porcelain process. In 2007 she had the opportunity to be an apprentice with ceramist Fance Franck in Paris, France.
Since 2009, Paz-Pedro has worked as a lead artist with the Mayor's Art Institute of ALMA (Apprenticeships for Leaders in the Mosaic Arts), where she created large-scale, public art mosaic murals across New Mexico. In 2015, she helped start the non-profit ALMA and is currently the Operations Director and ALMA Artist. Paz-Pedro is also a full-time art teacher at La Academia De Esperanza Charter High School, where she bridges her passion for working with the community and youth through art. She is a fiancé to a fellow artist, together they have a beautifully rowdy six-year-old and reside in Albuquerque, New Mexico.
Partially funded by the City of Santa Fe Arts Commission and the 1% Lodgers Tax.
If you are an individual with a disability in need of any type of auxiliary aid or service to attend this event, please contact IAIA's ADA Office at least seven calendar days prior to the event or as soon as possible at adaoffice@iaia.edu or (505) 424-5707.