IAIA Annual Open House and Building Dedication Ceremony
Mon, November 6, 2017, 2:00 pm

–

6:00 pm

|

Free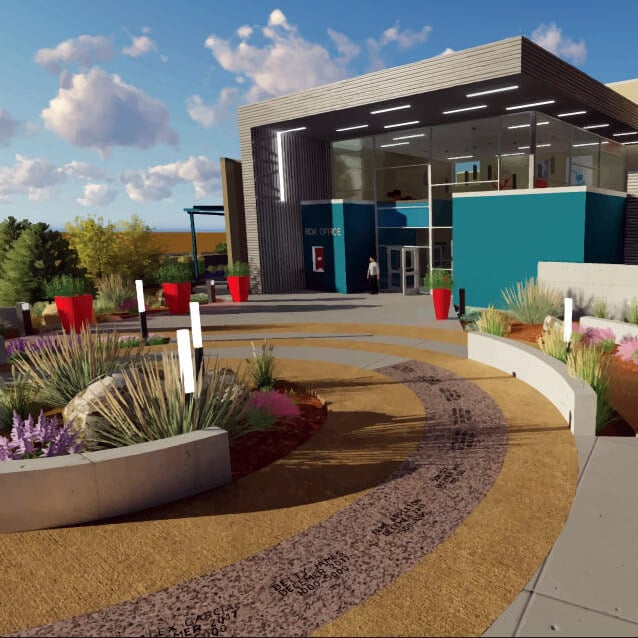 You are invited to explore the Institute of American Indian Arts (IAIA) campus and programs during our annual open house. Learn more about our exciting opportunities, meet students, faculty, and staff. IAIA will celebrate the opening of its newest campus facility, with a dedication ceremony for the Performing Arts and Fitness Center at 3:30 pm featuring special guests Grammy award-winning musician Robert Mirabal (Taos Pueblo), Olympic Gold Medalist Billy Mills (Oglala Lakota), Santa Fe Mayor Javier Gonzales, New Mexico Higher Education Department Cabinet Secretary Dr. Barbara Damron, and more special guests to be announced. Student performances and athletic demonstrations to follow.
IAIA Artist-in-Residence (A-i-R) artists Athena LaTocha (Hunkpapa Lakota/Keweenaw Bay Ojibwe), Frank Buffalo Hyde (Nez Perce/Onondaga), Jason Brown (Koyukan Athabascan), and Wanesia Spry Misquadace (Fond du Lac Ojibway) will also be opening their studios to the public.
Honey Harris from The Big Show will be broadcasting live on KBAC 98.1 FM from 2–4 pm.
A wide variety of on campus activities will take place, highlighted by a Bronze Pour—a sight not often seen by those outside of the art world—taking place at the Allan Houser Haozous Sculpture and Foundry Building. Additionally, there will be open studios, guided campus tours, screenings in the Digital Dome, student demonstrations and performances, fitness challenges, and special guests. More details will be available from the Welcome Desk at the Open House. IAIA Financial Aid Department with be available to assist students with completing their FAFSA paperwork for Student Aid in the Library and Technology Center
Performing Arts and Fitness Center Facts
The building is 23,900 sq. ft.
The architect is Dyron Murphy Architects.
The general contractor is Jaynes Construction.
The owner's representative is Peter Brill of PBI Consulting.
It is a multi-purpose facility, housing both the college's fitness center and gym, along with being home for the IAIA performing arts program.
The performing arts learning spaces include dance studios with sprung flooring, a costume shop, rehearsal space, a green room, and a state of the art black box theater with configurable audience seating.
The fitness spaces include a full gymnasium with capacity for over 300 spectators and a fitness center that will include brand new cardio and weightlifting equipment, and appointed locker rooms.
In addition to the specialized wood floors in the learning spaces of the building, the facility also boasts several thousand square feet of beautifully polished concrete flooring.
The building was designed to LEED silver standards and incorporates a photo-voltaic array on its rooftop, comprised of 80 solar panels. A monitoring station is also being installed in the lobby so that visitors can see in real time how much energy is being generated by the array. In addition, LED lighting has been included throughout the building.
Both the east and west entrances feature beautifully appointed outdoor gathering spaces. However, the west entrance was specifically designed for the students as a place where they can come together, play music, and perform.
The college used a myriad of sources to fund the building. These included State of NM severance tax bond funds, State of NM G.O. bond funds, USDA Rural Development funding, U.S. Dept. of Ed. Title III funding, funding from the American Indian College Fund, and a number of private gifts (led by a $1M gift from the Ottens Foundation).
One of the key features of the new building is the JoAnn and Bob Balzer Alumni Gallery, decicated to showcasing IAIA Alumni Artwork. An inaugural exhibition will feature paintings, prints, and photography from the personal collection of Bob and JoAnn Balzer. JoAnn has been a member of the IAIA Board of Trustees since 2010. The Balzers literally removed these works from the walls of their home, and have loaned them to IAIA for the opening and to exhibit the art through 2018.
Artist include Tony Abeyta (Navajo) '86, Shonto Begay (Navajo) '76, David Bradley (Chippewa, Ojibway) '79, Steve Deo (Creek, Euchee) '92, Doug Hyde (Nez Perce) '64,Patricia Michaels (Taos Pueblo) '89, Penny Singer (Navajo) '96, Charlene Teters (Spokane) '86, and Peterson Yazzie (Navajo) '05.
IAIA President Dr. Robert Martin (Cherokee) spoke about the dedication and Open House saying, "Please join us for this special occasion when we invite the general public to visit our campus and experience the beauty and creativity of our students and tour our new Performing Arts and Fitness Center."
Free and open to the public. Light food and refreshments provided by Bon Appétit.
Recent Photographs
Architect Preview
Timelapse Video from September 13, 2017