IAIA A-i-R: Erica Lord, Peter Williams, and Ryan Feddersen—Fashion, Photography, and Art in Public Spaces
Thu, November 2, 2017, 5:30 pm

–

7:00 pm

|

Free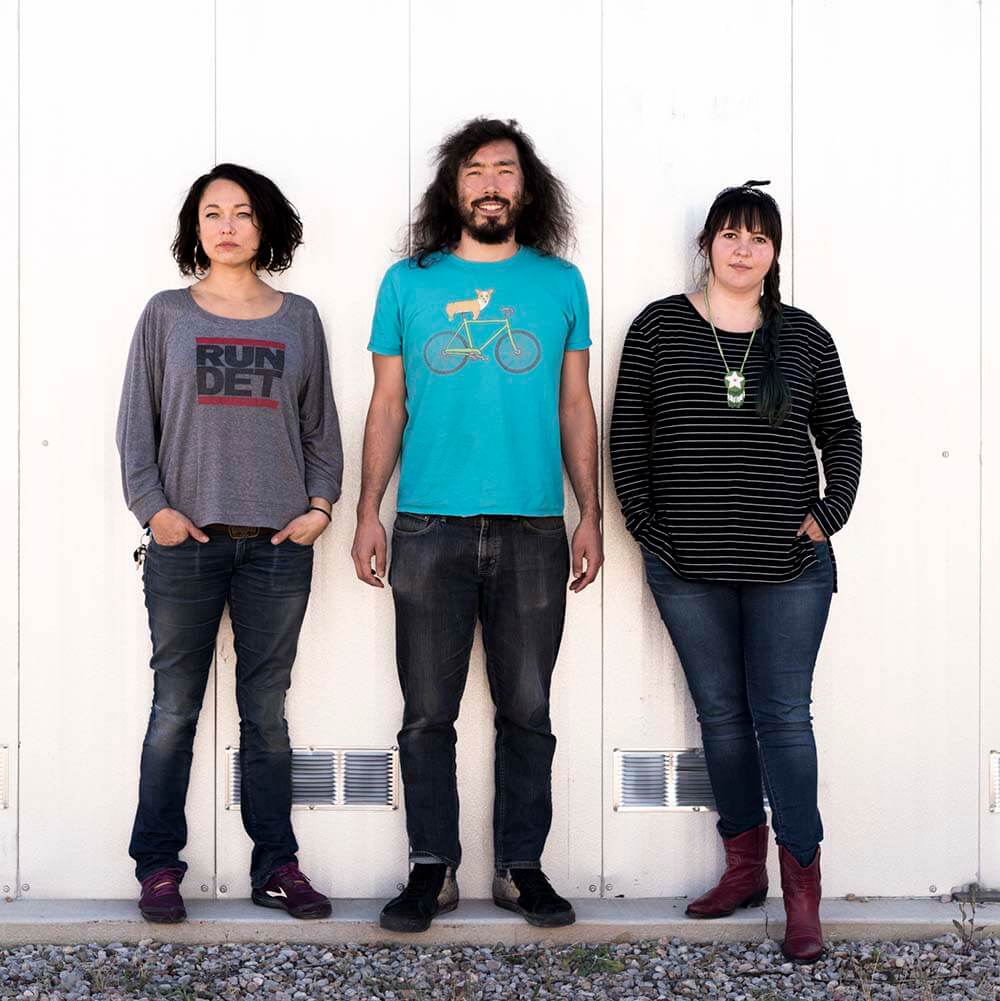 Please join the IAIA Museum of Contemporary Native Arts (MoCNA) in a special evening with IAIA Artist-in-Residence (A-i-R) artists Erica Lord, Peter Williams, and Ryan Feddersen. The IAIA Artist-in-Residence (A-i-R) Program hosts artists for residencies taking place on the IAIA campus during the academic year.
Free and open to the public.
Erica Lord
Erica Lord (Athabaskan) is an interdisciplinary artist who explores concepts and issues that exist within a contemporary Indigenous experience and how culture and identity are affected in a rapidly changing world. Lord draws on her experience of growing up between Alaska and Upper Michigan and her mixed race cultural identity drawn from her Athabaskan, Iñupiat, Finnish, Swedish, Japanese, and English descent. In order to address a multiple or mixed identity, Lord uses a variety of mediums to construct new, ambiguous, or challenging representations of race. Lord received her BA from Carleton College, and a MFA at The School of the Art Institute of Chicago. She has exhibited nationally and internationally, including the IAIA Museum of Contemporary Native Arts (MoCNA) in Santa Fe, the Musée du Quai Branley in Paris, the National Gallery of Canada, and the Smithsonian Institution's National Museum of the American Indian.
Peter Williams
Peter Williams (Yup'ik) who was born and based in Alaska, strives to express and celebrate the oneness of all things, with emphasis on the human spiritual relationship with nature. He views this connection in his art as vital for healing the human soul along with the well-being of the planet. Williams smudges with Labrador Tea before a hunt, praying for safety and clean kills. He asks the animals for their lives before he shoots while giving them their last drink of water prior to skinning. Meat is a large part of his diet, a gift he shares with his community. The artist views these acts to honor the animals enabling their spirits to visit again. He has demonstrated the technique of skin sewing seal and sea otter fur by hand at Southeast Alaska Indian Cultural Center, Sheldon Jackson Museum, Alaska State Museum, and to Alaska Native youth. Each stitch binds the human world closer to the animal world.
Under his fashion label Shaman Furs, Williams carries on the historic art of elegant and simple textile construction built to endure the Alaskan elements. The artist views fashion as telling a complex story in the simplest way. In 2015 he presented at New York Fashion Week and was profiled in The Guardian. His first runway show was at Brooklyn Fashion Week, 2016. Later that year, the New York Times chief fashion critic, Vanessa Friedman, published an article on his work titled "Is All Fur Bad Fur?". Williams completed a Rasmuson Foundation Artist Residency at Santa Fe Art Institute, and has guest lectured at Yale University, Portland Art Museum, and 516 ARTS.
Ryan Feddersen
Ryan Feddersen (Confederated Tribes of the Colville Reservation, Okanogan and Arrow Lakes) is a Seattle-based artist who creates multi-layered environments and interactive sculptures alongside intimate studio work. Her art is tongue-in-cheek, with a pointed message by providing opportunities for a re-examination of shared histories through humor and fun, and hands-on engagement. Hypocrisies and injustices in contemporary American culture in regard to race, class, and gender—through a historical, cultural, and urban lens are often addressed in her work. Feddersen received a Bachelor of Fine Arts from Cornish College of the Arts in 2009, graduating Magna Cum Laude with concentrations in painting, print art, drawing, and sculpture. She has created large-scale interactive installations and site-specific pieces for regional museums and arts agencies including the Seattle Office of Arts and Culture, Tacoma Art Museum, MoPOP(EMP), The Henry Gallery, Spokane Arts, and the Missoula Art Museum.
Photographic Views
For more information, please contact IAIA Artist-in-Residence Program Director Dr. Lara M. Evans (Cherokee) at (505) 424-2389 or levans@iaia.edu