IAIA Digital Dome—Frank Waln and the Sampson Brothers
Fri, November 4, 2016, 7:00 pm

–

9:00 pm

|

$20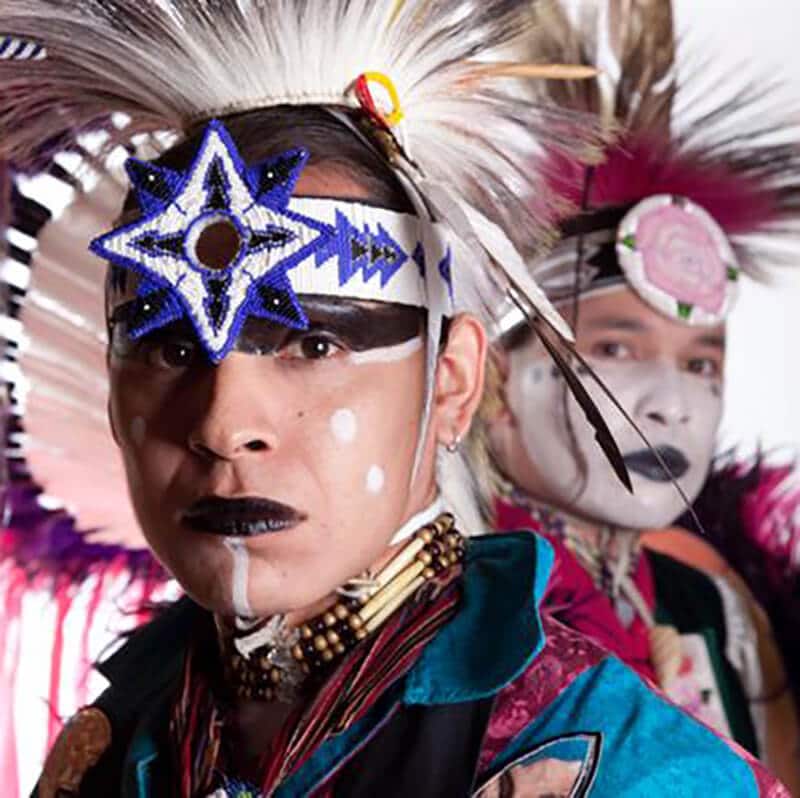 Music, spoken word, and dance performance at the Institute of American Indian Arts (IAIA) Digital Dome featuring Frank Waln and the Sampson Brothers. Additionally, workshops will be happening the day of the event.
Admission
$20 general admission
$10 students
Tickets are $20 per person ($10 for students) for the performance and are available for purchase at The Lensic box office. For more information, please contact IAIA Digital Dome Manager Mats Reiniusson at (505) 424-2349 or at mreiniusson@iaia.edu.
The trio welcomed the students, staff, and faculty in a hoop dancing and spoken word lyrical workshop that was interactively engaging with the audience, which discussed the relationship of origin stories and traditional storytelling in the modern art form of dance and hip hop. The day concluded with an intimate live performance of hoop dancing by the Sampson Brothers and songs from Waln's collection of award-winning music, including the recent release of
"7" featuring Tanaya Winder (Southern Ute/Duckwater Shoshone/Pyramid Lake Paiute) before a sold-out audience inside the IAIA Digital Dome.
Operating the visuals was IAIA Senior Digital Art Student and Digital Dome Research Assistant Feather Metsch (Little Traverse Band of Odawa).
Metsch incorporated works from IAIA graduate Sadie Redwing's (Cheyenne River Sioux Tribe) graduate thesis Respectful Indigenous Design and images from Frank Waln and Micco Sampson. Frank and the Sampson Brothers lyrics and dance performance captured both the hearts and emotions of the audience by integrating their involvement into the performance, telling their personal experiences with each other, and as individuals that resonated with the audience of the show. The evenings performance was one of the best performances of the year (inside the IAIA Digital Dome) that incorporated new audio and lighting equipment that established the new beginnings of a professional performance venue in Santa Fe—it felt as if the artists were performing solely for them.
Written by IAIA Assistant Professor and Digital Dome Manager Mats Reiniusson, and for more information call (505) 424-2349 or mreiniusson@iaia.edu.
About Frank Waln and the Sampson Brothers
Frank Waln is an award-winning Sicangu Lakota Hip Hop artist, producer, and performer from the Rosebud Reservation in South Dakota. A recipient of the Gates Millennium Scholarship, Waln attended Columbia College Chicago where he received a BA in Audio Arts and Acoustics. Waln's awards include three Native American Music Awards, the National Center for American Indian Enterprise Development, 2014 Native American 40 Under 40, and the 2014 Chicago Mayor's Award for Civic Engagement. He's been featured on Buzzfeed's 12 Native Americans Who Are Making a Difference, USA Today, ESPN, and MTV's Rebel Music Native America. Waln has written for various publications including Decolonization: Indigeneity, Education, and Society and The Guardian. Frank Waln travels the world spreading hope and inspiration through performance and workshops focusing on self-empowerment and the pursual of dreams.
As world-renowned dancers, Lumhe and Samsoche Sampson (Mvskoke Creek/Seneca)—also known as the Sampson Brothers—strive to promote cultural pride, unity, and hope by setting a positive example through art, education, and dance. They hope to give back to their tribe and the Indigenous community as a whole by breaking stereotypes and thus creating opportunities for generations to come. The Sampson Brothers aim to be successful artists, but use that success to educate and keep their culture alive. With perseverance in education and tradition they bridge two worlds to provide positive inspiration as 21st century warriors.
For more information about the collaboration between Frank Waln and the Sampson Brothers, see the Unbreakable Trio: The Sampson Bros and Frank Waln article on Indian Country Today Media Network's website.