IAIA A-i-R: Athena LaTocha, Frank Buffalo Hyde, Jason Reed Brown, and Wanesia Spry Misquadace—Brown Bag It at MoCNA
Fri, December 8, 2017, 12:00 pm

–

1:30 pm

|

Free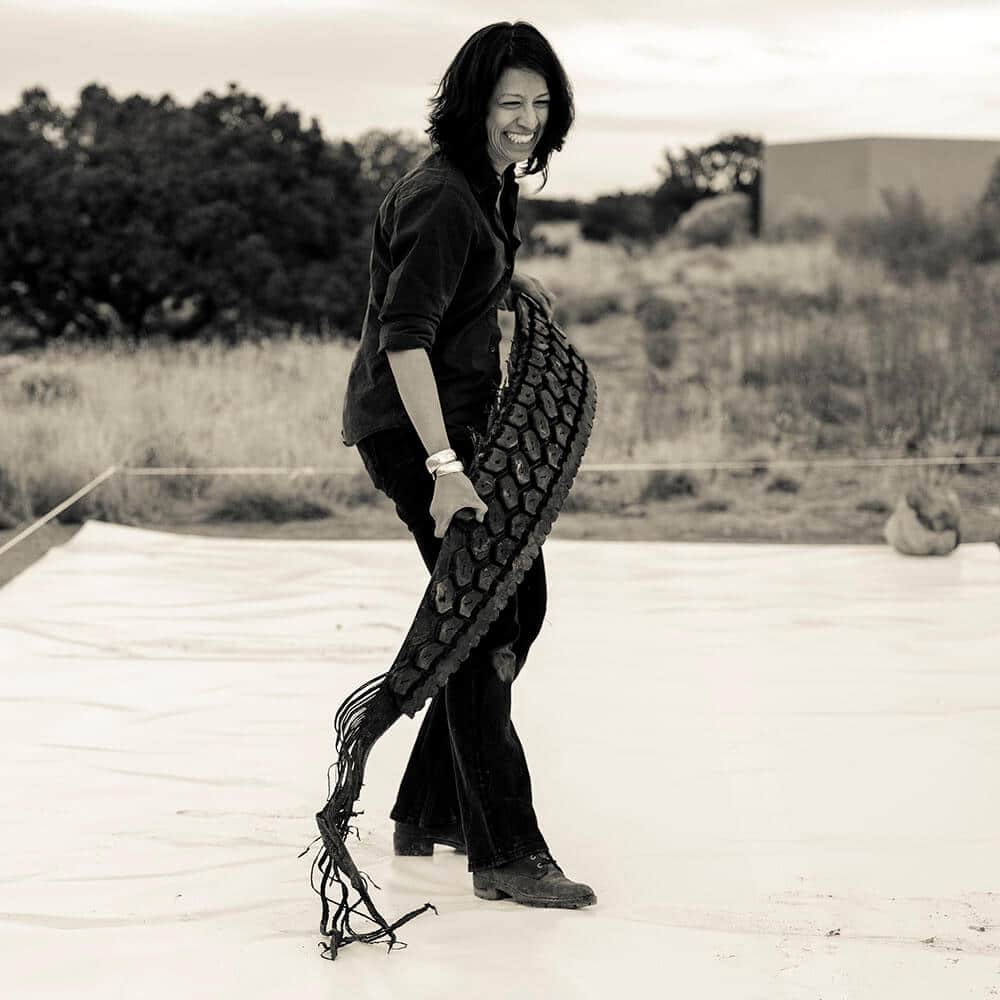 Join IAIA Artist-in-Residence (A-i-R) artists Athena LaTocha, Frank Buffalo Hyde, Jason Reed Brown, and Wanesia Spry Misquadace at the IAIA Museum of Contemporary Native Arts (MoCNA) in a lunchtime discussion. Bring your lunch and hear from the artists about their work.
Free and open to the public.

Athena LaTocha
Athena LaTocha (Hunkpapa Lakota/Keweenaw Bay Ojibwe), born in Anchorage, Alaska, is an artist whose monumental works on paper explore the tenuous relationship between man-made and natural landscapes. Her work has been shown across the country in places such as the CUE Art Foundation, Artist's Space, Wilmer Jennings Gallery, Chelsea Art Museum, New York State Museum, the Dahl Art Center in South Dakota, the South Dakota Art Museum, and the International Gallery of Contemporary Art in Anchorage, Alaska. Most recently, she had a solo exhibition at the IAIA Museum of Contemporary Native Arts (MoCNA) in Santa Fe, 2017.
LaTocha received her Bachelor of Fine Arts degree from the School of the Art Institute of Chicago, and a Master of Fine Arts degree from Stony Brook University, New York. LaTocha is a 2016 recipient of the Joan Mitchell Foundation Painters and Sculptors Grant. Additionally, she was awarded the prestigious Robert Rauschenberg Foundation Residency in 2013. The artist held a full fellowship at the Vermont Studio Center, and was the artist-in-residence at Chashama at the Brooklyn Army Terminal in New York from 2008 to 2015. Currently she divides her time between New York City and Peekskill, New York.
Frank Buffalo Hyde
Frank Buffalo Hyde (Nez Perce/Onondaga Nation, Beaver Clan) was born and presently resides in Santa Fe, New Mexico. He uses American icons to explore the miscommunication of cultures. Hyde often turns stereotypical imagery of the "Indian" on its ear with his own brand of satire. Over the past decade he has had numerous sold out shows and his work has been collected by many American museum and public art collections. In 2013, a suite of thirteen paintings titled, SKNDNS-Native Americans on Film, was purchased by The National Museum of the American Indian. Buffalo Hyde has shown internationally including a summer and fall 2012 exhibition of contemporary art in Russia and in galleries in Japan, Chicago, New York, and San Francisco. He has been an artist-in-residence and exhibited at the IAIA Museum of Contemporary Native Arts (MoCNA) in Santa Fe and at the University of Virginia's Kluge-Ruhe Aboriginal Art Collection. His most recent solo exhibition, I-Witness Culture is at the Museum of Indian Arts and Culture, February 2017 to January 2018. Buffalo Hyde attended IAIA in 1993–1995 and the Santa Fe Art Institute in 1996.
Jason Reed Brown
Jason Reed Brown (Koyukon Athabascan) is a blacksmith artist who was raised between the urban and rural landscapes of both the Pacific Northwest and Alaska. Living in the Alaskan wilderness produced memories of the land and family, a contrast to life in the city. His designs come from a desire to combine his lifetime of exposure to Northwest Coastal art and city lifestyle. The artist involves the principle of "translating" Northwest Coastal Native art into the medium of metal through the principles of blacksmithing. His sculptures are hammered into shape then bent, riveted, and welded together. Previous to attending the Institute of American Indian Arts (IAIA), Brown worked as a tattoo artist and muralist. While at IAIA, Brown discovered a passion for sculpture, specifically metal sculpture. During the summer of 1998, Brown assisted world-renowned blacksmith artist Tom Joyce on various projects including the Albuquerque art museums' Rio Grande Art Gates. His experience working with Joyce was a critical factor in his understanding of utilizing iron as an artistic medium. Brown graduated in 2001 from Turley Forge School of Blacksmithing.
Wanesia Spry Misquadace
Wanesia Misquadace currently resides in Awahtukee, Arizona where she lectures and teaches as an Assistant Professor of Metals and Indigenous Arts, and she is head of the Metals Program at Arizona State University. Misquadace is from the Fond Du Lac Ojibway band, an enrolled member of the Minnesota Lake Superior Chippewa Tribe. Misquadace earned her MFA in Metals and 4-Dimensional Art in 2015 at the University of Wisconsin-Madison. Misquadace was the first Native American student to show her work at the Chazen Museum while attending graduate school in a three-year traveling exhibit called, "Changing Hands 3: Art Without Reservation," Museum of Art and Design, New York. Misquadace pushed forward to become one of the first four graduates to received her BFA in Museum Studies and Studio Arts in 2005 from the Institute of American Indian Arts in Santa Fe, New Mexico.
Misquadace is a master at the art of birch-bark biting, a traditional art form to which she gives a contemporary context using the patterns as templates for jewelry, dresses, birch bark baskets, quill work, and storytelling. She awakened the art form in 2005 where she received her first blue ribbon in diverse art forms at the prestigious Santa Fe Indian Art Market, The Heard Museum, Gene Autry and Native Treasures. Misquadace creates a new style of birch bark fine art baskets with wood biting techniques, metal transfers, and precious stones. Misquadace says, "I love my people, I love the process of connecting my heart, my designs my feelings into each piece I create. My research explores metal smithing as a subject and object engaging the fields history methods outcomes while exploring indigenous native techniques that provoke new conversations. We are Here. We are interconnected."
Athena LaTocha, Frank Buffalo Hyde, Jason Reed Brown, and Wanesia Spry Misquadace are in residence November 6–December 6, 2017.