IAIA A-i-R: Orlando Dugi, Wade Patton, and Micheal Two Bulls—Open Studio
Wed, January 24, 2018, 3:00 pm

–

5:00 pm

|

Free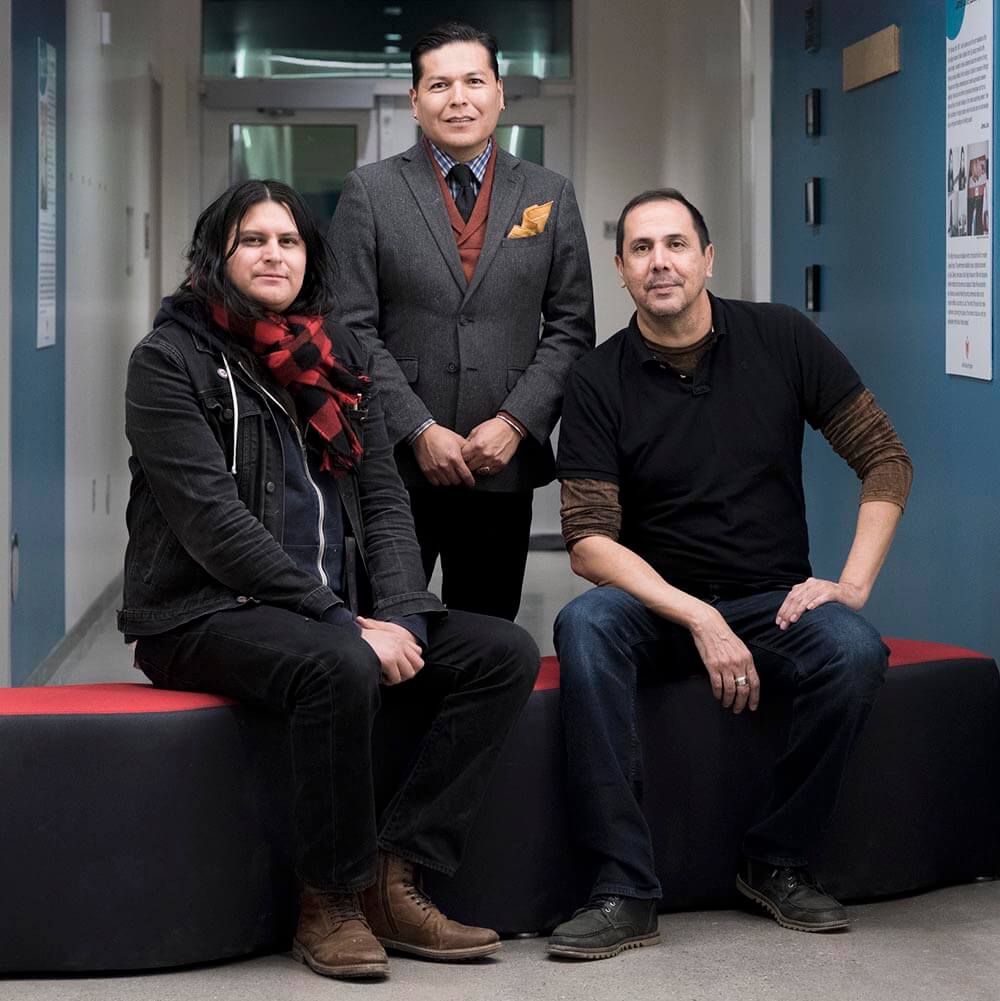 Drop-in to visit IAIA Artist-in-Residence (A-i-R) artists Orlando Dugi, Wade Patton, and Micheal Two Bulls in their studios. Learn about their processes, techniques, tools, ideas, and cultural influences. Orlando Dugi will be in the Performing Arts and Fitness Center costume shop, Wade Patton will be in the A-i-R studio in the Academic Building, and Micheal Two Bulls will be in the Photography and Printmaking studio in the Academic Building.
Free and open to the public.
Orlando Dugi
January 8–March 8, 2018
Orlando Dugi (pronounced dew-guy) is currently living and working in Santa Fe, NM. Originally from Grey Mountain, Arizona, Diné Nation, Dugi learned to bead at the age of six and learned how to sew in a home economics class in seventh grade. In 2009, Dugi began designing hand-beaded evening clutches and designed his first gown in 2010. The following year Dugi designed his first capsule collection of only three garments each hand-beaded and hand-sewn. Within the last four years, Dugi has designed three collections and includes a New York City showing at NY Style Fashion Week in 2016 Spring and Summer. Dugi's designs are feminine, sculptural, and highly embellished with many hours of hand-sewing and hand-beading and therefore they are only made-to-order.
Orlando Dugi is currently working on his 2018 Fall and Winter collection. You can see the making of the collection during his IAIA Artist-in-Residence (A-i-R) residency. After the A-i-R residency, Dugi will begin working on his 2019 Spring and Summer collection which will be shown at Style NY Fashion Week in September 2018.
Wade Patton
January 12–February 10, 2018
The spare beauty of the prairie resonates in Wade Patton's work. An enrolled member of the Oglala Lakota, Patton grew up on the Pine Ridge reservation surrounded by a rich culture of music and art. After obtaining a BA in art from Black Hills State University and a solo exhibit at the Sioux Indian Museum in Rapid City, he moved to the East Coast. It took leaving South Dakota for Patton to find his voice for his most recent body of work. Patton began expressing what he missed, the beauty and splendor of the Black Hills and the skies of South Dakota. He started to draw landscapes and clouds as a reminder of home. Something clicked, not only in his artistic expression, but with collectors and galleries—their positive response was unexpected. Patton started sending work back home for exhibits and to galleries, and began getting recognition. Yet, while pursuing art opportunities on the East Coast, he longed for home. Recently, Patton realized how much he needed to return to South Dakota. He missed his family and needed to pursue his art in the place where he finds the most inspiration. That decision brought Patton straight back into the thriving Native Art scene that wasn't there when he left South Dakota three years ago. Native artists we're doing what was expected, but once he returned it was a breath of fresh air to see that Native artists were taking risks and were being accepted in mainstream society.
Now, Patton says people in his community remark, "Oh you're the cloud guy!" Patton is reacquainting himself with the land and his ancestry, which is most prevalent in his new works. Patton's establishing a style of his own and there's nothing like it right now in the Indian art world." —Artist Don Montileaux on Wade Patton's most recent work
Micheal Two Bulls
January 15–February 17, 2018
Micheal Two Bulls (Oglala Lakota) is from the Rapid City and Red Shirt Table communities located on the Pine Ridge Indian Reservation in South Dakota. Through printmaking, Two Bulls combines several processes into one piece, creating one-of-a-kind mixed media works on paper. His work often focuses on concepts that deal with identity, history, and place. Lakota symbols and iconography meshed with popular culture imagery blend together in his work, often asking the audience to engage and ask questions. Two Bulls writes, "I want my paintings to start a dialogue with the viewer, engage them on various levels where they can ask questions, be curious, and empathize with the work."