Exposure: Native Art and Political Ecology and Manifesting Our Destinies—Virtual Exhibition
Wed, September 1, 2021

–

Sat, December 31, 2033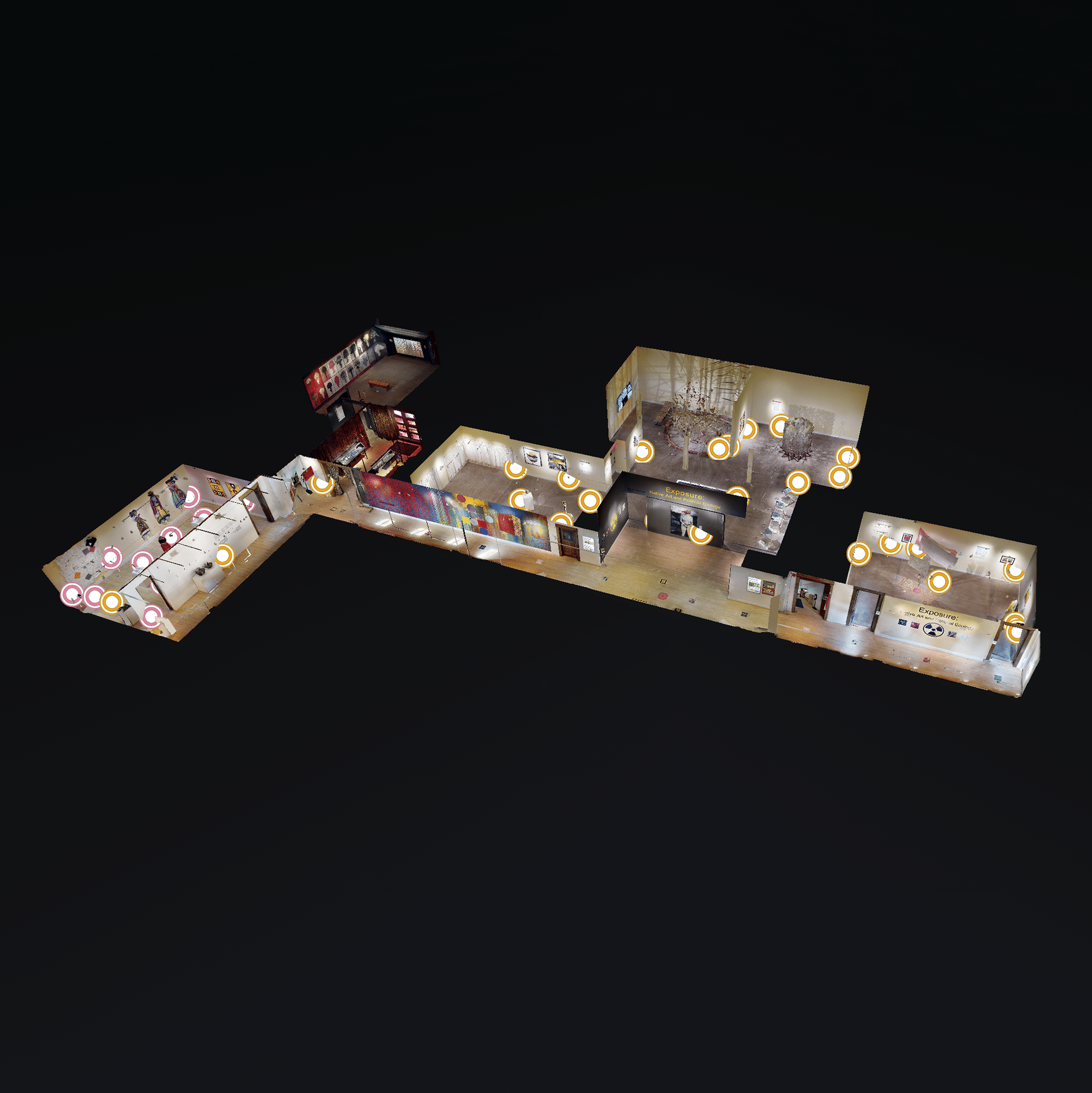 The IAIA Museum of Contemporary Native Arts' (MoCNA) third Virtual Museum is now live. This VR space is a virtual replica of our physical museum located in downtown Santa Fe, New Mexico, and co-developed by our Senior Museum Education Manager Winoka Yepa (Diné) and Photographer Lisa Hinson of Five D Media.
Funded by the Art Bridges Foundation.
Exposure: Native Art and Political Ecology documents international Indigenous artists' responses to the impacts of nuclear testing, nuclear accidents, and uranium mining on Native peoples and the environment. The traveling exhibition and catalog give artists a voice to address the long-term effects of these man-made disasters on Indigenous communities in the United States and around the world. Indigenous artists from Australia, Canada, Greenland, Japan, Pacific Islands, and the United States utilize local and tribal knowledge, as well as Indigenous and contemporary art forms as visual strategies for their thought-provoking artworks.
Exposure: Native Art and Political Ecology is co-curated by iBiennale Director Dr. Kóan Jeff Baysa; Nuuk Art Museum Director Nivi Christensen (Inuit); Hokkaido Museum of Modern Art Chief Curator Satomi Igarashi; Art Gallery of New South Wales Assistant Curator of Aboriginal and Torres Strait Islander Art Erin Vink (Ngiyampaa), independent curator Tania Willard (Secwepemc Nation), and MoCNA Chief Curator Manuela Well-Off-Man.
Co-curated by Joseph Maldonado (Tlingit and Ottawa) and Ethan Swearengin (Cherokee Nation), IAIA 2020–2021 BFA Exhibition: Manifesting Our Destinies highlights artwork that reflects the diverse backgrounds of this year's IAIA graduating BFA students. The juried show presents the unique voices of emerging artists that share an interest in themes such as resiliency, self-empowerment, and societal acceptance. The artworks reflect how these artists have redefined their cultural heritage by blending contemporary art forms, techniques and materials with traditional Native art influences.