Star Wallowing Bull: Mechanistic Renderings
Sat, January 24, 2015

–

Fri, July 31, 2015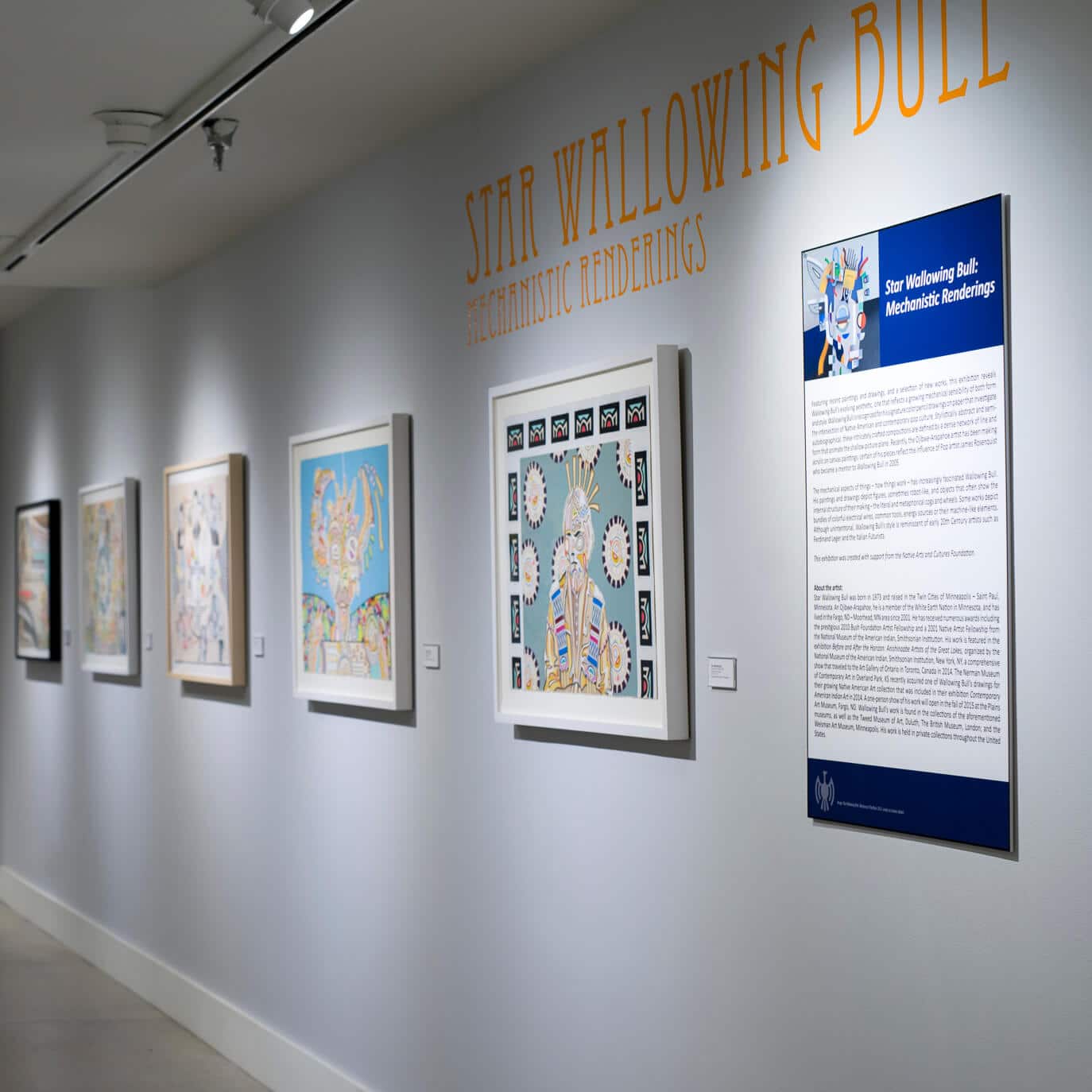 Featuring recent paintings and drawings, and a selection of new works, this exhibition will reveal Wallowing Bull's evolving aesthetic, one that reflects a growing mechanical sensibility of both form and style. Wallowing Bull is recognized for his signature color pencil drawings on paper that investigate the intersection of Native American and contemporary pop culture. Stylistically abstract and semi-autobiographical, these intricately crafted compositions are defined by a dense network of line and form that animate the shallow picture plane. Recently, the Ojibwe-Arapahoe artist has been making acrylic on canvas paintings; certain of his pieces reflect the influence of Pop artist James Rosenquist who became a mentor to Wallowing Bull in 2005.
The mechanical aspects of things–how things work–have increasingly fascinated Wallowing Bull. His paintings and drawings depict figures, sometimes robot-like, and objects that often show the internal structure of their making–the literal and metaphorical cogs and wheels. Some works directly depict bundles of colorful electrical wires, common tools, energy sources or their machine-like elements. Although unintentional, Wallowing Bull's style is reminiscent of early 20th Century artists such as Ferdinand Leger and the Italian Futurists.
This exhibition was created with support from the Native Arts and Cultures Foundation.
About the artist:
Star Wallowing Bull was born in 1973 and raised in the Twin Cities of Minneapolis–Saint Paul, Minnesota. An Ojibwe-Arapahoe, he is a member of the White Earth Nation in Minnesota, and has lived in the Fargo, ND–Moorhead, MN area since 2001. He has received numerous awards including the prestigious 2010 Bush Foundation Artist Fellowship and a 2001 Native Artist Fellowship from the National Museum of the American Indian, Smithsonian Institution. His work is featured in the exhibition Before and After the Horizon: Anishinaabe Artists of the Great Lakes, organized by the National Museum of the American Indian, Smithsonian Institution, New York, NY, a comprehensive show that traveled to the Art Gallery of Ontario in Toronto, Canada in 2014. The Nerman Museum of Contemporary Art in Overland Park, KS recently acquired one of Wallowing Bull's drawings for their growing Native American Art collection that was included in their exhibition Contemporary American Indian Art in 2014. A one-person show of his work will open in the fall of 2015 at the Plains Art Museum, Fargo, ND. Wallowing Bull's work is found in the collections of the aforementioned museums, as well as the Tweed Museum of Art, Duluth; The British Museum, London; and the Weisman Art Museum, Minneapolis. His work is held in private collections throughout the United States.