Tamara Ann Burgh and Luanne Redeye: FRAMED
Thu, June 4, 2020

–

Sun, January 24, 2021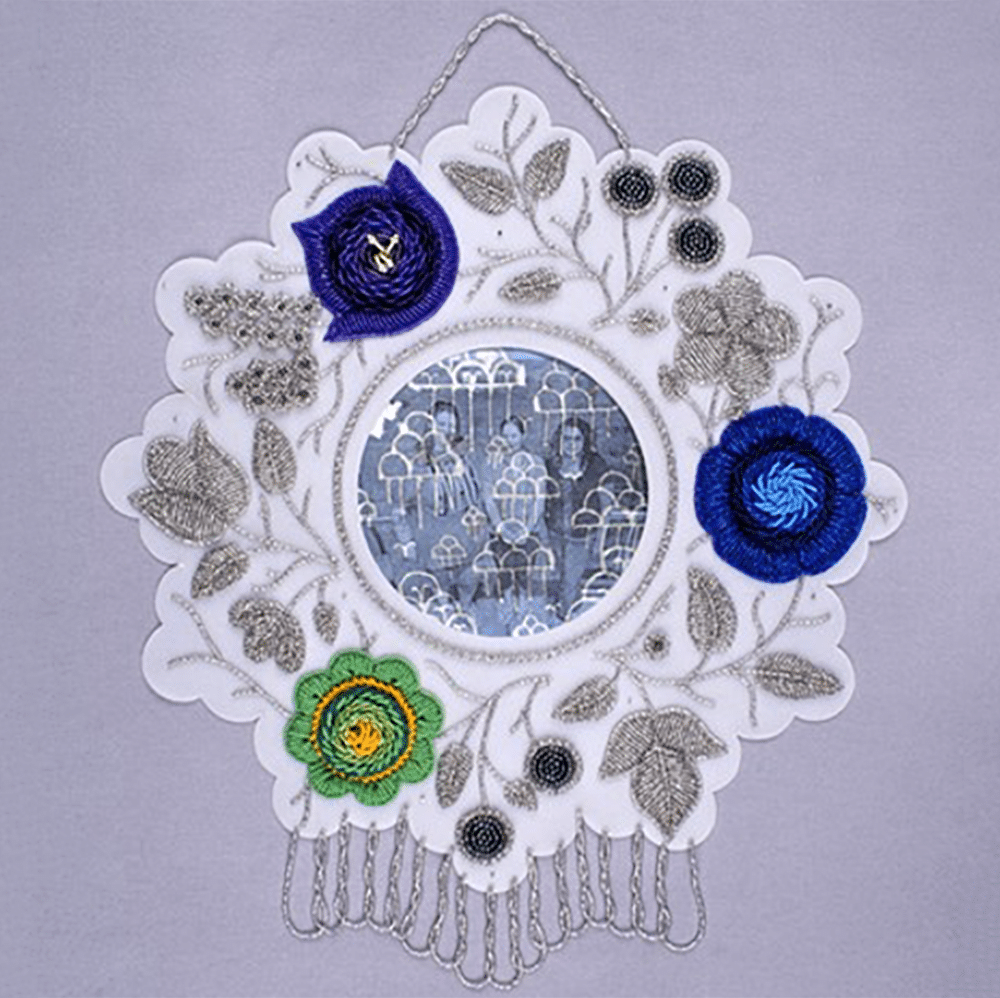 The exhibition FRAMED investigates issues of self-representation and identity and examines the "American Experience" from a Native perspective through mixed media works by Tamara Ann Burgh (Inupiat-Kawerak/Swede) and Luanne Redeye (Seneca Nation of Indians/Hawk Clan). Both artists often include family and found portrait photos in their artworks, which they alter through overpainting. Presented in seemingly nostalgic, decorative frames, which evoke American folk art and Victorian-era Iroquois beadwork, these works invite viewers to contemplate alternate histories, intergenerational trauma and authenticity.
About Luanne Redeye
Luanne Redeye's work is an intersection of autobiography and community. Redeye depicts her Native culture and the relationship between perception and experience through genre scenes and portraits of people from her home reservation in New York. The representation of Native peoples from a Native perspective is important to her. Sometimes that representation includes specific, identifiable symbols and sometimes it does not—because the figures within her Frame Series define their culture on their own terms. Redeye explains, "I select designs and photos of persons for my works not to prove authenticity but to disprove what others think is 'authentic.'" She incorporates community and family members into her Frame Series, which gives the works a strong personal and emotional component. The works are visual narratives of the people's histories, capturing what it means to be Indian today.
Born in Jamestown, NY, Luanne Redeye grew up on the Allegany Indian Reservation in Western New York. An enrolled member of the Seneca Nation of Indians and Hawk Clan, she studied at the University of New Mexico receiving her MFA in 2011. She has exhibited in solo and group exhibitions in museums and galleries throughout the US and abroad, including Travois in Kansas City, MO, The Samuel Dorsky Museum of Art in New Paltz, NY, the Rainmaker Gallery in Bristol, UK, and the MEAM in Barcelona, Spain. She has been featured in First American Art Magazine and has participated in artist residencies, including the Truth and Reconciliation Residency at the Santa Fe Art Institute and the IAIA Artist-in-Residence (A-i-R) program in 2018.
About Tamara Ann Burgh
Tamara Ann Burgh's works from The Enculturated White Man series explore the idea of what would have happened, "if early America had embraced the "noble savage" instead of attempting to destroy them." The works use found turn-of-the-twentieth century black and white photographs of Caucasian individuals, which Burgh gave a make-over with color pencils. She manipulated the photographs by applying Native attire, hairdos and face paint. The altered portraits are encased in Burgh's custom-made wooden "shrines" painted in colonial colors, and matted in various fabrics and needle-work. Her intention for this body of work is to offer an alternate vision of an America where invading Europeans adopted Native cultures and beliefs instead of trying to destroy them. Burgh's works explore the question, "What if the Indians had won?"
FRAMED also presents quilted fabric art from her Healing Intergenerational Trauma series. Burgh began working on this series during her "Equal Justice" residency at the Santa Fe Art Institute (2017–2018). Studies indicate how trauma and shame is embedded in Indigenous peoples' DNA and can take up to seven generations to heal. In her portraits of colonial leaders and family members (oil on canvas), embroidery and quilting Burgh visualizes how shame infused DNA can be healed.
Burgh graduated with a studio art degree from Illinois State University. After that she worked for Chicago publishing companies as a graphic artist and illustrator. She has also lived and worked in Alaska, Australia, and Wisconsin. Her works part of permanent collections at the college and public library in Nome, Alaska and University of Alaska, Juneau.
3D Stereoscopic
The FRAMED exhibition is available in 3D—stereoscopic photographs that will transport you, virtually, into the exhibition space—essentially as if you were there. To view the photographs in the third-dimension, use a pair of anaglyph red/cyan 3D glasses.
Don't have a pair of 3D glasses? Request a free pair of 3D glasses, and additionally, you can download and print a do it yourself (DIY) handout to make a pair at home. Download and view the IAIA 3D Glasses Template.
2D Gallery