You Are On Indian Land
Thu, April 23, 2015

–

Fri, July 31, 2015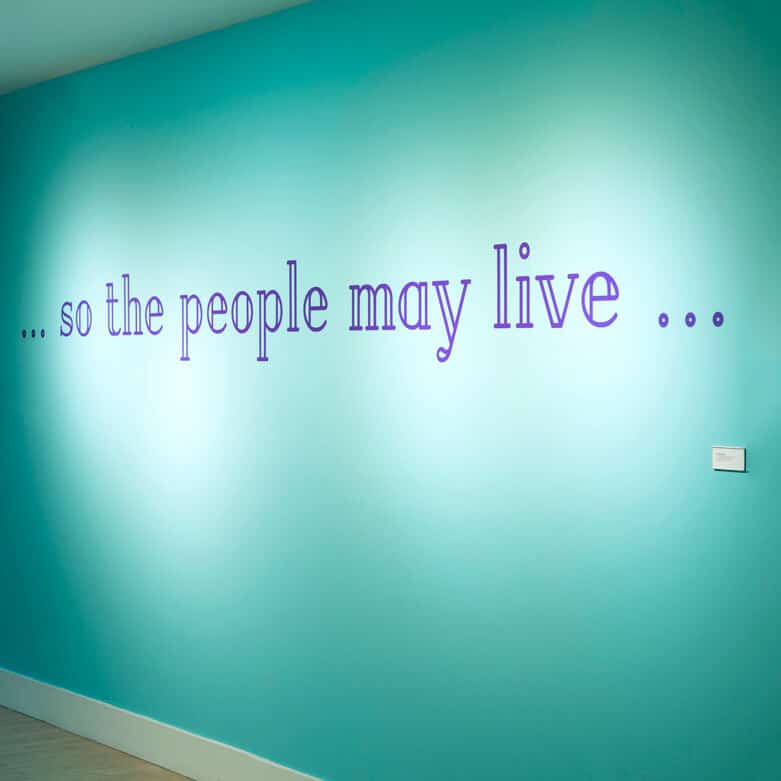 The exhibition You Are On Indian Land presents the work of leading contemporary American Indian and First Nations artists from across the North American continent. The participating artists actively engage the notion of pop-culture, misappropriation, and representation in their work. This multi-site exhibition premiered at Radiator Gallery in New York on April 17, 2015 featuring the work of Nicholas Galanin, Edgar Heap of Birds, Postcommodity, and Marcus Amerman.
Here at the IAIA Museum of Contemporary Native Arts, You Are On Indian Land premieres new work by Lakota artist Dana Claxton. The text based installation calls upon stereotypes, color meaning, and language to communicate ideas of identity and cultural heritage. The quotes are derived from different sources including advice the artist received from a Lakota elder, a line from a Sundance song, as well as derogatory terms popularized in the late 1800s, such as "dirt worshipper." Claxton is taking ownership of these terms to enable their positive connotations. Taken together, the quotes reveal a distinctly Native American cosmology.
The exhibition will continue at the Museum of Northern Arizona in Flagstaff, Arizona with additional artists Cheyenne Randall, Steven Yazzie, and Michael Namingha, opening November 13.
About the Artist
Dana Claxton (Lakota) is a filmmaker, photographer, and performance artist. Her work looks at stereotypes, historical context, and gender studies of Indigenous peoples of the Americas, specifically those of the First Nations. In 2007 she was awarded an Eiteljorg Fellowship for Native American Fine Art. Claxton's work has been exhibited at the National Gallery of Canada, the Biennial of Sydney, Montreal Biennale, Guangdong Museum of Art, and the University of Lethbridge.
About the curator
Erin Joyce is a seasoned arts journalist, curator, and critic. She has held editorial positions at GOOD Magazine, ULTRA:EXTRA, and Asian Media Inc., and practices as an independent curator of contemporary art. Her projects have included exhibitions and public art installations featuring work by emerging and mid-career artists across a variety of media. Erin has also served as a consultant for SXSW, and is a contributor to Canvas Magazine, Hyperallergic, Salon, Art Wednesday, SHFT, and the Modern Art Iraq Archive. Erin holds a Bachelor of Arts in Art History from the University of North Texas, studied Contemporary Art at the Sotheby's Institute of Art in London, and a Master of Arts in Museum Studies from Johns Hopkins University.