IAIA—Making History During SWAIA's Indian Market
Over the third weekend in August, thousands of Indigenous art and culture appreciators flocked to New Mexico to celebrate the Southwestern Association of Indian Arts (SWAIA) Centennial Santa Fe Indian Market, the world's largest and most prestigious market of Native American art. This year represented a return to form for the market, which had been operating at a reduced capacity for the last two years. More than 800 artists from over 200 tribes across the Americas participated in this year's event, as did dancers, musicians, and authors, many of whom have ties to the Institute of American Indian Arts (IAIA).
Cara Romero (Chemehuevi Indian Tribe) '05 won the Best-in-Class award for Class III: Painting, Drawing, Graphics & Photography for her photograph The Zenith featuring fellow IAIA alum George Alexander (Mvskoke) '15 (who also goes by the name Ofuskie) wearing an astronaut's helmet and floating in "outer space," surrounded by Indigenous white corn. Romero also received the IAIA Alumni Award, presented by IAIA President Dr. Robert Martin (Cherokee). Selection committee members said they chose her work because they immediately related to the artist's vision of Indigenous Futurism. Romero's star has been rising in recent years. Her exhibit Water Memories is currently on view at the Metropolitan Museum of Art.
Also in Class III, Terran Last Gun (Piikani) '16 won Best in Division for Representational Painting/Graphics. Last Gun has multiple exhibits coming up over the next year at galleries in Albuquerque, NM, and at the Hockaday Museum of Art in Kalispell, MT.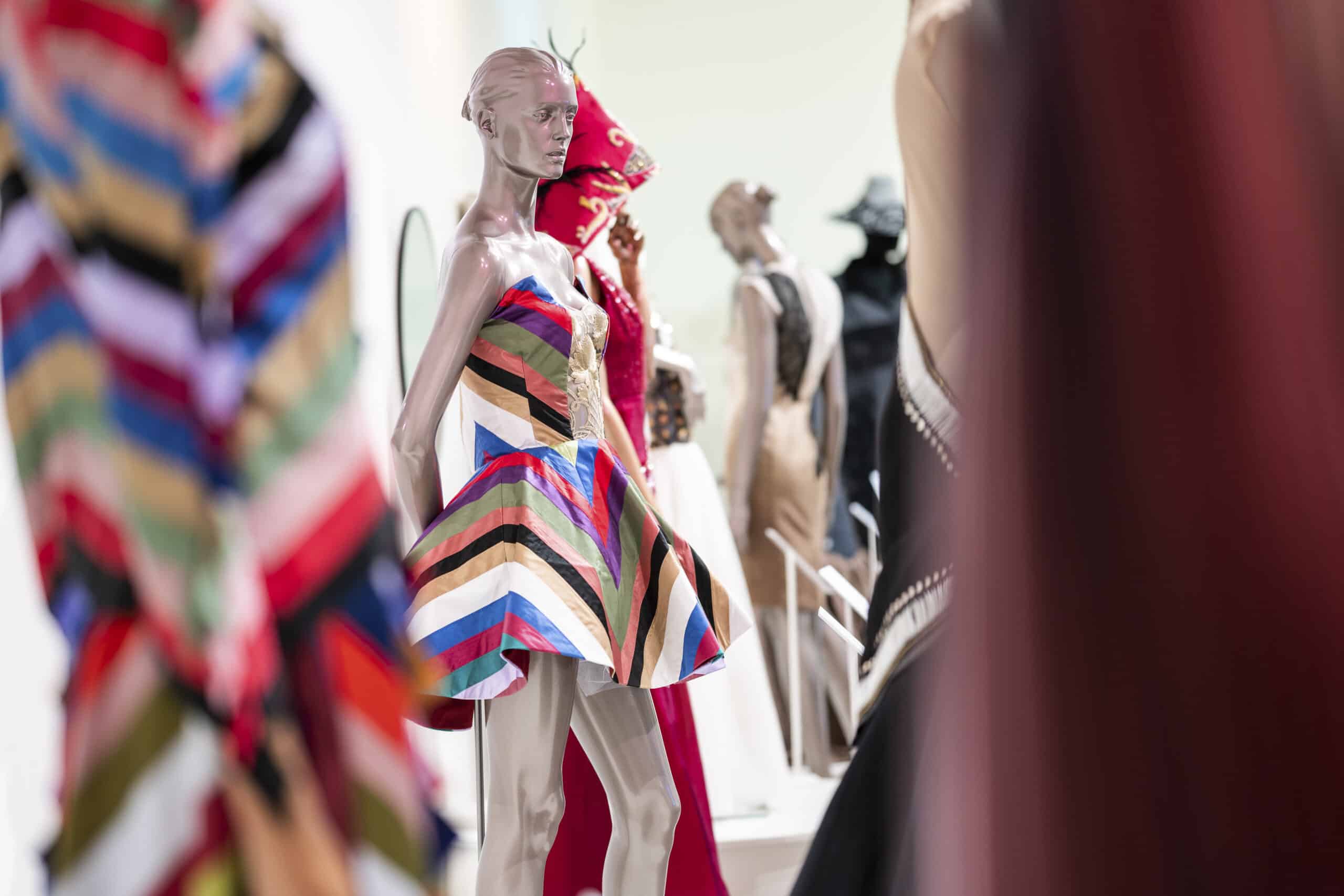 On Friday night, the IAIA Museum of Contemporary Native Arts (MoCNA) was the place to be. MoCNA's record-breaking summer/fall exhibitions opening reception welcomed approximately 1,400 visitors to the museum. The exhibitions, The Art of Indigenous Fashion, guest curated by IAIA Professor of Art History and SWAIA Indigenous Fashion Show Director Amber-Dawn Bear Robe (Siksika Nation); Athena LaTocha: Mesabi Redux, presenting cast iron wall reliefs made onsite in the Mesabi Mountains by the titular Lakota and Ojibwe artist; and Matrilineal: Legacies of Our Mothers, which documents three generations of art and fashion created by the women of the Fife family (Mvskoke) of Oklahoma (several of whom attended IAIA), have all received positive reviews from sources such as Vogue, Hyperallergic, The Art Newspaper, Pasatiempo, and Cowboys & Indians. Santa Fe photographer Tira Howard captured fashion photographs of event attendees which can be viewed in an online gallery.
Saturday was rainy and overcast, but there was plenty to do inside MoCNA and on its portal, where the IAIA Student and Recent Graduate Market took place. Twenty-five artists set up on the portal early in the morning, and in the afternoon, it became a haven from the inclement weather for market attendees. Some artists sold out of their inventories on Saturday. Others took advantage of the massive swell of art collectors that flooded Downtown Santa Fe on Sunday. One alum noted she had made enough sales to pay three months of her mortgage.
Over the course of the weekend, MoCNA hosted a bevy of special events that included poetry readings and book signings, a fashion pop-up shop for current IAIA student Jontay Kahm, and film screenings of the IAIA 60-year and MoCNA 50-year anniversary documentary, Making History. Highlights of MoCNA's offerings included a genial and well-attended discussion panel with members of the Fife family followed by an insightful gallery tour with Matrilineal: Legacies of Our Mothers curator, Laura Clark (Mvskoke) and the Yoo'tó "Beaded Water" Reading organized by Phoenix-based Abalone Mountain Press and Words of the People, an Indigenous-language writing workshop run by IAIA alum Chelsea T. Hicks (Osage) '20 (who also took part in IAIA's Indigenous Showcase during the Santa Fe Concert Series). The event brought together a community of poets, authors, and creatives to read their work and celebrate Indigenous poetry.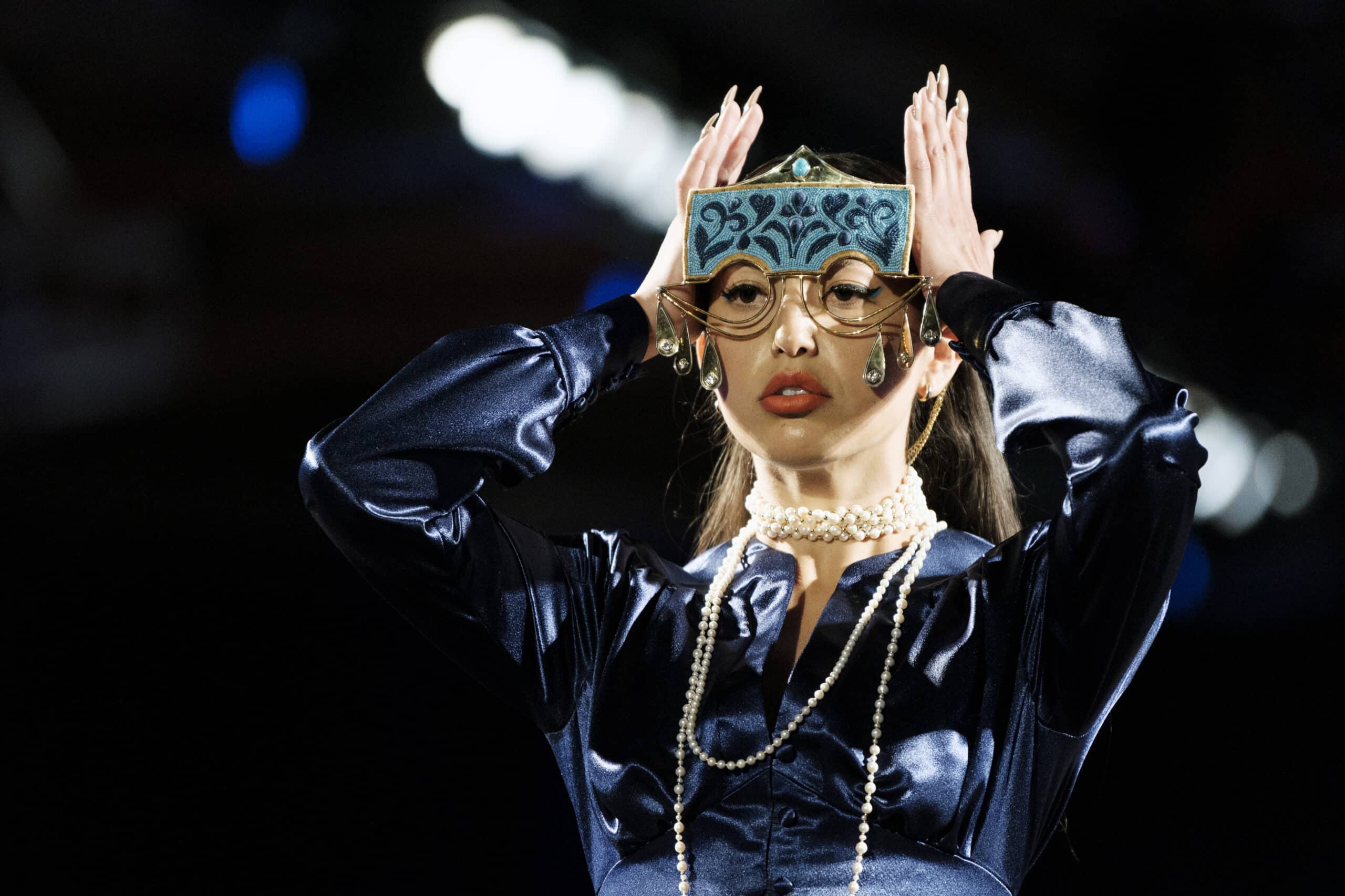 One of the most-anticipated events of Indian Market every year is the Indigenous Fashion Show, and this Centennial Market was no exception. The 2022 fashion programming was expanded over two days, showcasing two full fashion shows. The first premiered on Saturday at the Centennial Gala Party, and the finale Indigenous Fashion Show took place at the Santa Fe Convention Center on Sunday. Directed by IAIA Professor of Art History Amber-Dawn Bear Robe (Siksika Nation), the fashion shows featured established and up-and-coming Indigenous designers, including IAIA alums and former students Lauren Good Day (Arikara, Hidatsa, Blackfeet, and Plains Cree) '13, Patricia Michaels (Taos Pueblo) '89, Jamie Okuma (Luiseno, Shoshone-Bannock, and Wailaki), and past Artists-in-Residence Orlando Dugi (Diné), and Ursala Hudson (Tlingit). The finale show was full of gorgeous design combining traditional Indigenous techniques, materials, and imagery with haute contemporary style.
Overall, the SWAIA 2022 Centennial Santa Fe Indian Market was a resounding success, showcasing extraordinary Indigenous art, literature, fashion, and culture. Congratulations to all those involved in bringing this event to Santa Fe once again and to the IAIA artists, authors, performers, leaders, and vendors who continually demonstrate that IAIA is Making History.
Institute of American Indian Arts
The Institute of American Indian Arts (IAIA)—the birthplace of contemporary Indigenous American art—has been the educational home for esteemed and innovative artists, writers, filmmakers, performers, and leaders since 1962. IAIA continues to grow on its stunning 140- acre campus in Santa Fe, New Mexico. Named one of the top art institutions globally by UNESCO and the International Association of Art and accredited by the Higher Learning Commission, IAIA offers undergraduate degrees in Cinematic Arts and Technology, Creative Writing, Indigenous Liberal Studies, Museum Studies, Performing Arts, and Studio Arts; graduate degrees in Creative Writing, Studio Arts, and Cultural Administration; and certificates in Broadcast Journalism, Business and Entrepreneurship, Museum Studies, and Native American Art History. The college serves approximately 500 full-time Native and non-Native American students from around the globe, representing nearly a hundred federally recognized tribes.
From its humble beginnings on the Santa Fe Indian School campus, IAIA began collecting and exhibiting its students' artworks, forming a collection that became the foundation of the world's premier museum representing contemporary Indigenous arts and cultures—the IAIA Museum of Contemporary Native Arts (MoCNA). MoCNA continues expanding its renowned collection of nearly 10,000 artworks, curating numerous progressive and innovative exhibitions, both traveling and at our museum in downtown Santa Fe.
The theme Making History encompasses IAIA's and MoCNA's 2022 events celebrating our rich history and looking forward to our vibrant future. We ask everyone to join us in celebrating IAIA's sixtieth and MoCNA's semicentennial anniversaries throughout this monumental year as we continue Making History.