Thank You and Celebrate with IAIA During our Annual Open House
I express my gratitude to the Institute of American Indian Arts (IAIA) trustees, IAIA foundation, sponsors, contributing artists, volunteers, and friends from the Santa Fe Community who came together to support student scholarships during our annual Benefit & Auction in August. We are thankful to have such a caring and supportive community whose efforts made our event an overwhelming success. Your dedication and enthusiasm were instrumental in bringing people together and creating a memorable experience for all present. We look forward to continuing to work together to support student success at IAIA—the birthplace of contemporary Native arts.
More than 80% of IAIA's students are eligible for federal financial aid—but the Pell Grant award covers less than half of the annual costs of attending the college. Since we do not participate in the federal college loan program because we want our students to graduate debt-free, scholarships help to cover the gap. Please know that through funding scholarships, you change the lives of students, as well as their families and communities.
I am pleased to share that IAIA will again partner with Santa Fe Community College (SFCC) to hold joint Open House events on September 21, from 10 am–2 pm at SFCC, and 1–5 pm at IAIA, providing the perfect opportunity to learn more about our missions, programs, and students. Campus tours and classroom and art studio demonstrations are scheduled to highlight our state-of-the-art facilities and art exhibits, and especially our talented faculty and creative students. Our beautiful and serene campuses, south of Santa Fe, are only six minutes apart by car and 11 minutes by bicycle, making it convenient to attend both colleges' events.
At IAIA, please join us for opening remarks at 1 pm in the Dance Circle, which will be the central hub for our Open House informational tables, delicious food provided by our café, and sign-ups for guided tours. Experience demonstrations in the Academic Building, Foundry, and Artist-in-Residence open studios and connect with nature through IAIA's Land-Grant Program. See our one-of-a-kind, fully articulating Digital Dome in the Ells Science and Technology Building. Head to the Performing Arts and Fitness Center to tour our gym, fitness center, classrooms, and performance spaces. Also, we are hosting a special vaccination clinic in the gym. Get vaccinated at no cost for COVID-19 (Moderna), Influenza, and Tdap for ages nineteen and below, and adults (with medical insurance information). You can visit our website at www.iaia.edu/openhouse to learn more about the schedule of activities that we have planned for the day. Please keep in mind that a section of Richards Ave is closed (see road condition updates at www.sfcconnectors.com).
I also want to take this opportunity to invite you to two other special campus events scheduled for this semester. On Saturday, October 7, from 11 am to 5 pm, we will hold our annual Fall Powwow. With the energy and spirit of the dancers and drum groups, IAIA Powwows are a vibrant display of our cultures—embodying our community's resilience. In December, when our Fall semester nears completion, the IAIA community comes together to showcase their fine art—jewelry, painting, sculpture, crafts, and more—during our annual Holiday Art Market on Saturday, December 9, from 9 am to 4 pm. Arrive early, enjoy coffee, and find the perfect gift for you and others.
We look forward to welcoming you to our campus at 83 Avan Nu Po Road, Santa Fe, where every day we celebrate Indigenous cultures and embody our mission "to empower creativity and leadership in Indigenous arts and cultures through higher education, lifelong learning, and community engagement."
Again, thank you for your support.
Wado,



Robert Martin, EdD (Cherokee Nation)
IAIA President
This Op-Ed piece appeared in the Santa Fe New Mexican's My View section on Sunday, September 17, 2023.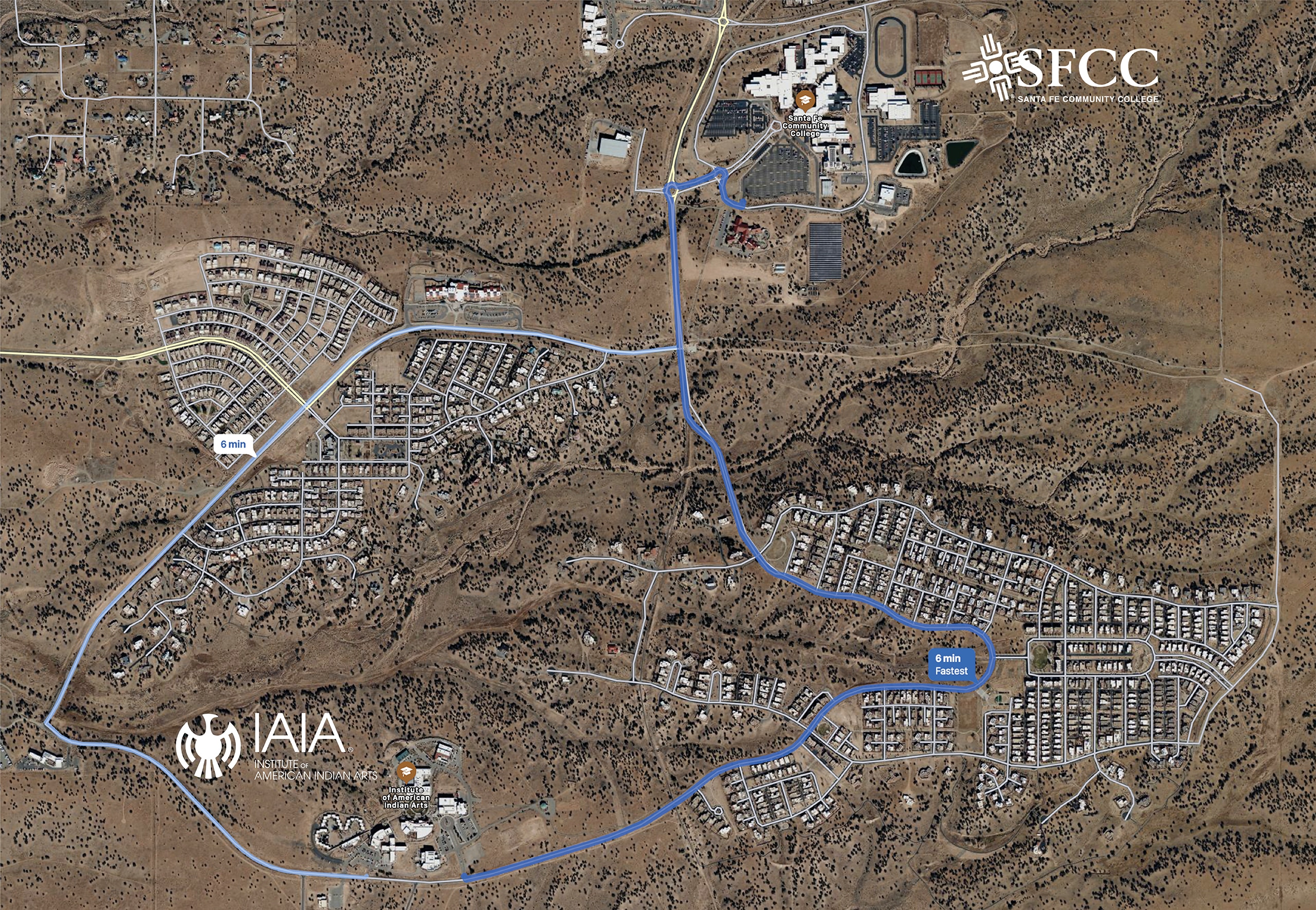 Explore Degree Programs
We invite you to explore our degree programs and certificates to find out which program is right for you. Below are the programs we offer at IAIA.
| Program | AA | AFA | BA | BFA | MFA | CT | ON |
| --- | --- | --- | --- | --- | --- | --- | --- |
| Broadcast Journalism | | | | | | | |
| Business and Entrepreneurship | | | | | | | |
| Cultural Administration | | | | | | | |
| Cinematic Arts & Technology | | | | | | | |
| Creative Writing | | | | | | | |
| Indigenous Liberal Studies | | | | | | | |
| Museum Studies | | | | | | | |
| Native American Art History | | | | | | | |
| Native American Studies | | | | | | | |
| Performing Arts | | | | | | | |
| Studio Arts | | | | | | | |
Key: Associate of Arts (AA), Associate of Fine Arts (AFA), Bachelor of Arts (BA), Bachelor of Fine Arts (BFA), Master of Fine Arts (MFA), Certificate (CT), and Online (ON)
Institute of American Indian Arts
The Institute of American Indian Arts (IAIA) is the only college in the world dedicated to the study of contemporary Native American and Alaska Native arts. IAIA offers undergraduate degrees in Cinematic Arts and Technology, Creative Writing, Indigenous Liberal Studies, Museum Studies, Performing Arts, and Studio Arts; graduate degrees in Creative Writing, Studio Arts, and Cultural Administration; and certificates in Broadcast Journalism, Business and Entrepreneurship, Museum Studies, and Native American Art History. The college serves approximately 500 full-time equivalent (FTE) Native and non-Native American students from around the globe, representing nearly a hundred federally recognized tribes. Named one of the top art institutions by UNESCO and the International Association of Art, IAIA is among the leading art institutes in our nation and is accredited by the Higher Learning Commission (HLC).