IAIA A-i-R: Wall, Naataanii, Johnson, Redeye, and Little—Open Studios
Wed, October 31, 2018, 9:00 am

–

11:00 am

|

Free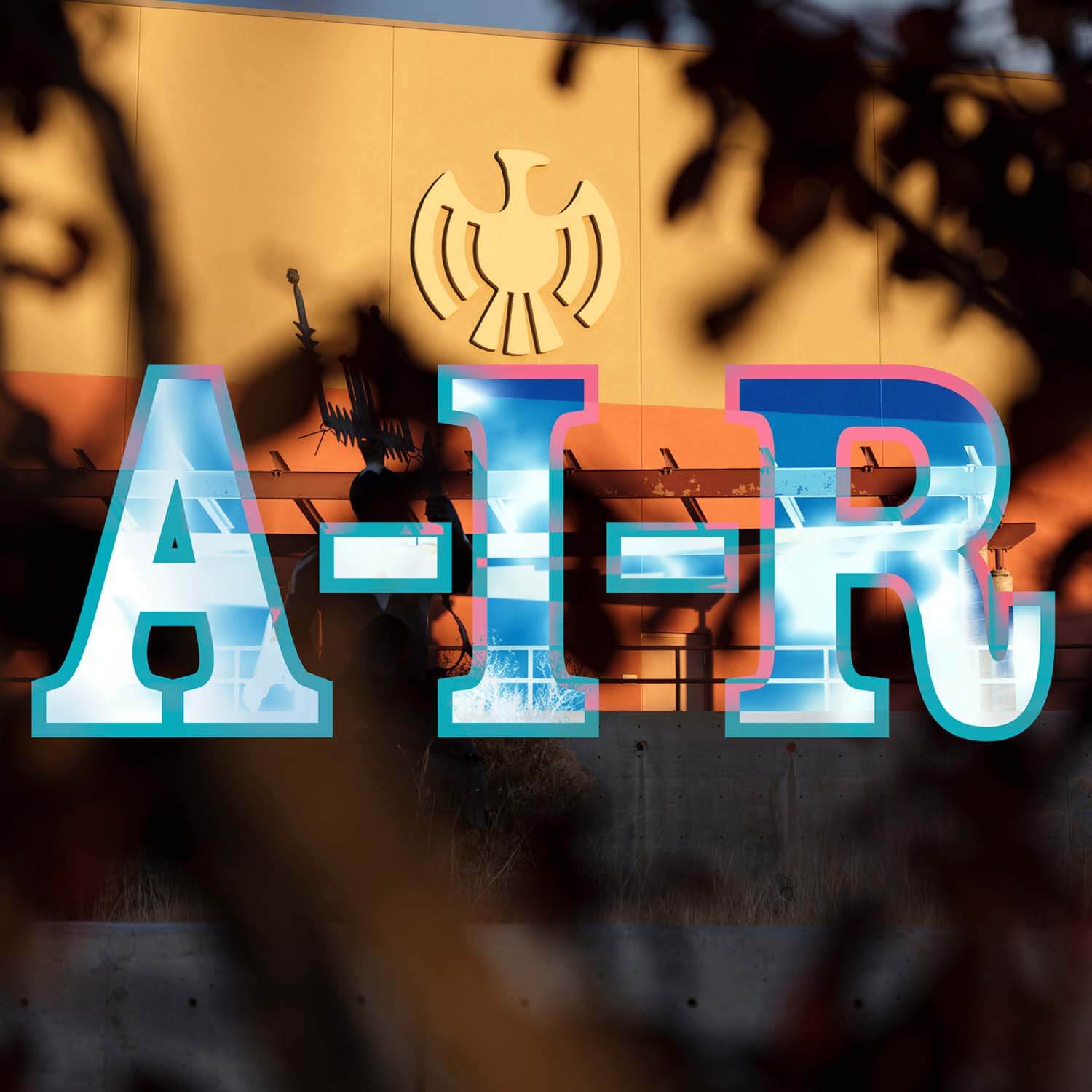 Join IAIA Artist-in-Residence (A-i-R) artists Adrian Wall, TahNibaa Naataanii, Luanne Redeye, Kenneth Johnson, and Monty Little in the Academic Building on the IAIA campus from 3:00 pm–5:00 pm for tours of the artists' studio spaces. It's Halloween—be sure to wear a costume to get some tricks or treats! Free and open to the public.
Monty Little
October 3, 2018–November 5, 2018
After five semesters of studying architecture at Arizona State University, Monty Little (Diné) enlisted in the Marine Corps as a Rifleman in 2004. During his enlistment, Little was stationed with 2nd Battalion, 5th Marines and served as a fire team leader while deployed in Iraq for seven months. In 2008, Little was Honorably Discharged from the Marine Corps.
Following his service, Little graduated with a BFA from the IAIA in 2015, with a double major—Creative Writing and Studio Arts. It was at IAIA where he began to translate his thoughts on his experience of war and post-war. Little visualizes his written work of anomalistic images of war, past and current memories, and employs a disarray of images that interstice uncertainty. Placement is indirect, yet strict, but not predictable-he finds clarity to be marginal. Little began to paint and print his poems using each medium as erasure, where unsettling truths reveal personal components and texture is integral, yet disruptive, to finding his past chaotic.
Little's current body of work re-conceptualizes various Edward S. Curtis photographs in which the Indigenous portraits are renegotiated in a distorted lens. Meaning, Curtis's nostalgic portraits are presently an illusion, whereas, the impact of modernity, assimilation, and complex identity now distort contemporary Indigeneity. He is interested in renovating Curtis's photographs by investigating irregularity in portraiture, where he uses glazing and alla prima techniques to paint his photos surreal. He continues to explore the discourse of perception in relationship to traditional and contemporary Indigenous identity. Little currently lives and works in Tulsa, Oklahoma with his family.
Luanne Redeye
September 1, 2018–October 31, 2018
Luanne Redeye (Seneca) uses painting as a way to see others. Working primarily in oil she depicts the relationship between perception and experience of native identity through genre scenes, designs, and portraits.
Born in Jamestown, New York, Redeye grew up on the Allegany Indian Reservation in Western New York. It is from here where she draws inspiration incorporating community and family members into her paintings which gives her work a strong personal and emotional component.
Redeye currently lives in Albuquerque, NM. She is an enrolled member of the Seneca Nation of Indians and the Hawk Clan. She studied at the University of New Mexico where she received her MFA in 2011. She has exhibited throughout the US and has been the recipient of various awards including, most recently, the Barbara and Eric Dobkin Fellowship at the School for Advanced Research in Santa Fe, NM.
Luanne Redeye's residency session is made possible by the generous support of Sunrise Springs Spa Resort in partnership with IAIA.
Adrian Wall
October 21, 2018–December 15, 2018
Adrian Wall (Jemez Pueblo) is a sculptor, and he has been sculpting since his late teens and has always had an affinity towards stone sculpture. Wall received his BFA from IAIA in 2014.
While Wall's primary medium is stone, he works with many materials, including clay, bronze, and glass. He has won several major awards in sculpture competitions across the United States and is a member of the Indigenous Sculptors Society, an accomplished group of Native American Sculptors dedicated to the advancement of stone sculpture. His work can be found in the collections of the Eiteljorg Museum, the Indian Pueblo Cultural Center Museum, and the Hauku Museum.
Wall has been the recipient of several fellowships including the National Museum of the American Indian Visiting Artist Fellow, the School for Advanced Research Rollin and Mary Ella King Native Artist Fellowship, and the Southwest Association for Indian Arts Fellowship. The subjects of Wall's sculptures most often relate to his Pueblo heritage. Stylistically, Wall is well known for blending figurative detail with abstract forms.
TahNibaa Naataanii
October 30, 2018–December 11, 2018
TahNibaa Naataanii (Navajo) is of the Many Hogan Clan and born for the Coyote Pass Clan. Her maternal and paternal grandfathers are the Mexican Clan and the Steep Rock Clan. She is from Table Mesa and Toadlena, New Mexico.
As a young girl, her paternal grandmother gave her the Navajo name TahNibaa Aglohiigiih. When translated it means TahNibaa the Weaver. Navajo Weaving was introduced to her by her mother, Sarah H. Natani, when she was seven years of age and in the second grade. She learned how to weave stripes first, then graduated to weaving squares and diamonds. Naataanii wove throughout her teenage years, and after she graduated from high school, her weaving ceased for a moment as she joined the U.S. Navy. After her Naval tour, she longed to hear the tapping of the weft and, shortly after, began to weave once again. She is discovering that she is falling in love with her work each day.
Naataanii enjoys raising sheep, working with raw and processed wool, enjoys weaving traditional-style Shoulder Blankets, contemporary designs, and exploring the creative process. When she weaves, she feels the wisdom of her Great Matriarchs and "Asdzaa Maaiideeshgiizhnii" who make her a 5th generation weaver.
Kenneth Johnson
October 30, 2018–December 30, 2018
Kenneth Johnson (Musogee Creek/Seminole) is a custom jewelry designer who is quick to smile and is known for his attention to detail in his jewelry creations. He specializes in stamp work, repoussé, and engraving precious metals using Southeastern Native motifs.
He also enjoys using his experience in the arts and organizing talent for community development projects such as the ongoing Mvskoke Canoe Paddle Project and, in the past, the Santa Fe Indian Market collaborative concho belt, silverware, and necklace projects.
Raised in Oklahoma, Johnson is from the Muscogee (Creek) and Seminole tribes, and has received recognition for creating iconic commissions for U.S., Canadian, and Oklahoma Supreme Court Justices, U.S. Congressmen, Native American Tribal Chiefs, museums, and distinguished individuals.
He is a former Southwestern Association for Indian Arts Board Member, is currently Chair of the Mvskoke Arts Association, and is a new Board member of the Ralph T. Coe Center for the Arts in Santa Fe. Johnson currently makes his home and art in Santa Fe, New Mexico. His residency is generously supported by the National Endowment for the Arts.