IAIA Summer Readers Gathering—Cherie Dimaline and Layli Long Soldier
Fri, July 26, 2019, 6:00 pm

–

7:00 pm

|

Free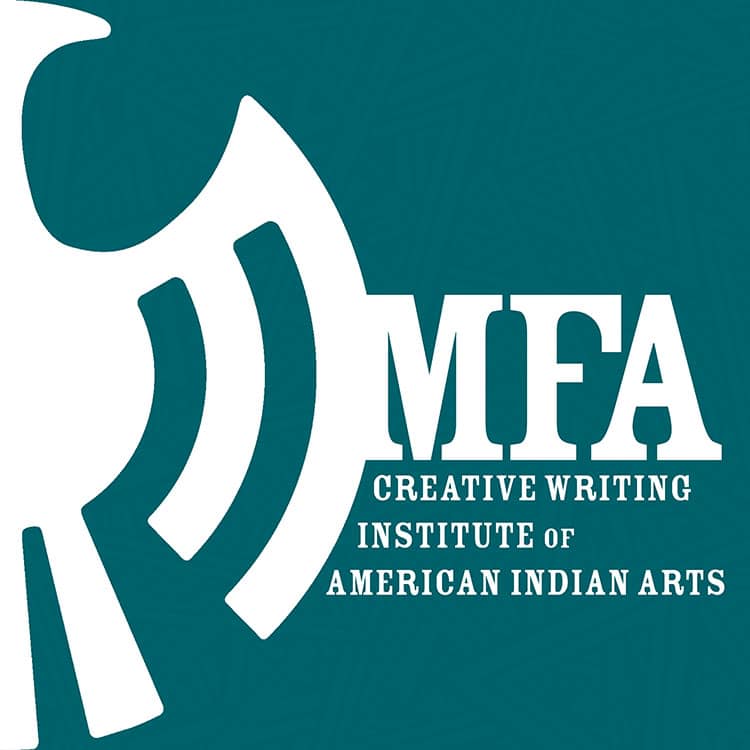 The Institute of American Indian Arts' (IAIA) Low Residency MFA in Creative Writing program presents the 2019 Summer Readers Gathering—July 20–27, 2019. Readings will take place each night beginning at 6:00 pm in the Auditorium in the Library and Technology Center (LTC) on the IAIA campus. For directions and a map of the IAIA Campus, please visit www.iaia.edu/visit. All readings are free and open to the public.
Cherie Dimaline
Cherie Dimaline (Georgian Bay Metis Community) is the author of the novels Red Rooms, The Girl Who Grew A Galaxy, and the collection of short stories, A Gentle Habit. Her latest work, a dystopian YA novel, The Marrow Thieves, was released by Cormorant Books in 2017 and has since won the Governor General's Award for Children's Literature, the Burt Award for First Nations Metis and Inuit Literature, and the prestigious Kirkus Prize for Young People.The book has been shortlisted for 2018 CBC Canada Reads, the White Pine Award, the Trillium Award and has landed on numerous 'Best of' lists for 2017 including National Public Radio, New York Public Library, American Indians in Children's Literature and the School Library Journal. It was 2018's #1 bestselling Canadian book and is being adapted for television.
In addition to writing, Cherie has edited numerous publications including Spirit, FNH and Muskrat magazines. She was named the 2014 Emerging Artist of the Year—Ontario Premier's Award, and was named the first Writer in Residence—Aboriginal Literature for the Toronto Public Library. Cherie also held the position of Writer in Residence for First Nations House at the University of Toronto and faculty for the Humber College Editing Indigenous Manuscripts program and the Humber School for Writers. She sits on numerous literary and arts boards and councils and continues to advocate for Indigenous literature and writers globally, work which has taken her from the Banff, Alberta to Gujurat, India. Cherie works closely with Elder storytellers in the community to carry forward protocols, histories and the stories themselves.
Cherie currently lives in Toronto, Ontario, where she coordinates the annual Indigenous Writers' Gathering and is building a national Indigenous literary organization. Her next work of literary fiction, Empire of Wild, will be published with Random House Canada and William Morrow in the US, Fall 2019. Her next YA book is forthcoming in Spring 2020 with Penguin Books.
Layli Long Soldier
Layli Long Soldier is a citizen of the Oglala Lakota Nation and a poet, writer, and artist currently teaching in Randolph College's MFA program, and has recently been named Visiting Assistant Professor in Creative Writing at IAIA and will join the faculty in the fall of 2019. Her book of poems Wheras, published by Graywolf Press in 2017, received the PEN Jean Stein Award and National Book Critics Circle John Leonard Prize. The book was a finalist for the 2017 National Book Award. Layli is the recipient of a Whiting Award, a Lannan Literary Award, and a National Artist Fellowship from the Native Arts and Culture Foundation. Her work has been featured on NPR's On Being and PBS's NewsHour.
Her poems and critical work appear in Poetry, American Poetry Review, American Reader, Kenyon Review, New York Times, American Indian Journal of Culture and Research, PEN America, The Denver Quarterly, and Brooklyn Rail, among others. In 2010 Q Ave Press published the chapbook Chromosomory, and in 2013 she participated in the art exhibit Pte Oyate at the Red Cloud Indian School.
Layli is a contributing editor at Drunken Boat and the poetry editor for Kore Press, a literary press that publishes poetry, fiction, and nonfiction by women. She holds a BFA in Creative Writing from the Institute of American Indian Arts and an MFA with Honors from Bard College.
Schedule of Readings
| Date | Readers | |
| --- | --- | --- |
| Sat., July 20 | Esther Belin, Derek Palacio, and Marie-Helene Bertino | |
| Sun., July 21 | Ramona Ausubel, Sherwin Bitsui, and Geoff Harris | |
| Mon., July 22 | Abigail Chabitnoy, Kimberly Blaeser, and Ken White | |
| Tues., July 23 | Jennifer Elise Foerster, Brooke Swaney Pepion, and Toni Jensen | |
| Thurs., July 25 | Santee Frazier and E.C. Osondu | |
| Fri., July 26 | Cherie Dimaline and Layli Long Soldier | |
| Sat., July 27 | Pam Houston, Chip Livingston, and Kristiana Kahakauwila | |
Participating in the gathering this year are noted writers Layli Long Soldier (Oglala Lakota), Abigal Chabitnoy (Unangan/Sugpiaq), and E.C. Onsondu—as well as IAIA MFA faculty members Ramona Ausubel, Esther Belin (Diné), Marie-Helene Bertino, Sherwin Bitsui (Diné), Cherie Dimaline (Métis), Jennifer Elise Foerster (Muscogee [Creek] Nation of Oklahoma), Santee Frazier (Cherokee), Geoff Harris, Pam Houston, Toni Jensen (Métis), Kristiana Kahakauwila (Native Hawaiian/German/Norwegian), Chip Livingston (Creek), Derek Palacio, Brooke Swaney Pepion (Blackfeet Tribal Member and Salish Descendent), and Ken White.
"The 2019 IAIA MFACW brings together a diverse range of voices working in the literary arts. We welcome readings by new mentors Esther Belin (Diné) and Brooke Swaney Pepion (Blackfeet Tribal Member and Salish Descendent). Featured writers include emerging poet Abby Chabitnoy (Unangan/Sugpiaq), Nigerian fiction writer E.C. Osondu, and renowned poet and visual artist Layli Long Soldier (Oglala Lakota). This year, with the appointment of Joy Harjo (Mvskoke) as US Poet Laureate, we celebrate the integral contributions made by Indigenous Women to World Literature."
—MFA Program Director Santee Frazier (Cherokee)
Free and open to the public. For more information, please contact Santee Frazier at (505) 424-2365 or mfa@iaia.edu. Support for these events is provided by the Lannan Foundation and New Mexico Arts. Partially funded by the City of Santa Fe Arts Commission and the 1% Lodgers Tax.